Generation Kill Episode 2 review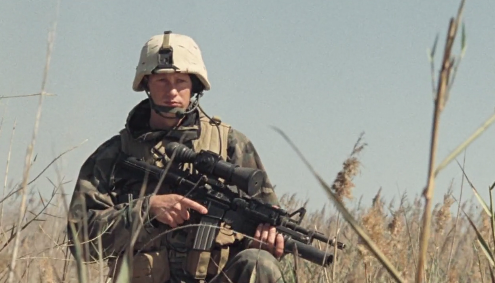 The creators of the best show of the 00's, THE WIRE, have a new HBO series, GENERATION KILL.  I have now watched the first two episodes of GENERATION KILL and I can definitely say that this second episode had a definite WIRE vibe to it (the first ep was a bit slow, but had to establish a lot).  That sense of true urban grit, of urban tension, of realness, it was flowing all over this David Simon and Ed Burns penned ep (along with Even Wright).  I am totally on board with GENERATION KILL and it feels great to finally have a high quality drama on my weekly viewing schedule again.  
GENERATION KILL is the story of the U.S. led invasion of Iraq in March 2003 from the viewpoint of the Bravo Company, an elite group of marines who also happen to have an embedded journalist from Rolling Stone magazine with them.  
Also like THE WIRE, within Bravo Company you have a diverse mix of people, from extremely sharp and intelligent leaders down to some of the dumbest of the dumb marines.  And not all the commanding officers are the sharpest knives in the drawer.  And if one of them happens to be your CO and gives an obviously wrong order, you still have to follow it because you are a marine, after all.  
You realize while watching GENERATION KILL just how amazing it is that the U.S. military can accomplish anything at all, at least in Iraq.  From having the wrong color camouflage to not enough batteries to power night vision goggles, it was just ludicrous how under-equipped the Bravo Company marines were.  And you feel for them.  It's already the toughest job in the world, made infinitely tougher by lack of adequate equipment and ROE (rules of engagement) that literally change in the heat of battle.  
I am once again fascinated by a TV show.  I will enjoy my weekly hours back in the very capable hands of David Simon and Ed Burns.