Star Wars Celebration Japan 2008!!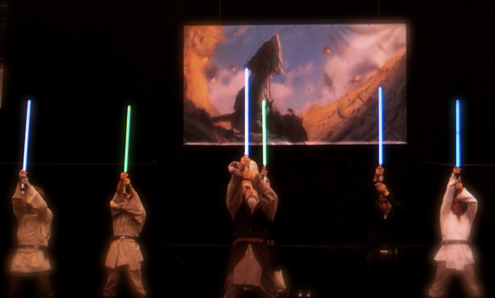 Like for many people of my generation, STAR WARS is the greatest genre series of my life.  In fact, the whole past decade of my life has been based on, and around, STAR WARS.  I have literally flown to other countries to be able to see the release of the prequels on time.  And also like many other STAR WARS fans, Episode III brought a significant close to the STAR WARS chapter of my life (read my Episode III journal).  Since 2005, STAR WARS has greatly waned in my consciousness.  Thus, I only found out about Star Wars Celebration Japan 2008 at the last minute.
And lucky that I did!  For a mini-revival in STAR WARS is about to begin with the release of the CG animated CLONE WARS movie in August 2008 and the related TV series soon after.  I write this post now while listening to the Episode III soundtrack.  Thusly I went to Makuhari-Messe in Chiba, Japan with UK Mike caught in surprise at this sudden burst of STAR WARS energy.  
We entered the large exhibition hall and surveyed all.  In actuality there were not as many Star Wars related exhibits and set items as there could have been in that space.  In appeared slightly empty.  We were of course there on the last day of the 3-day event.  Entry for one day cost ¥4,000.  
We took a look around for a bit, then at 12:30pm went to our first event, an on-stage interview with the director of the new CLONE WARS movie, Dave Filoni (at 2:30 in video below).  He was well versed in STAR WARS lore and hearing him speak so gave me confidence in how good CLONE WARS could be.  The audience was treated to two long clips from the movie.  These scenes were high on action.  The fighting in them was impressive, even if it didn't make much sense (climbing an enormous wall to attack a high enemy??).  I am now stoked to see CLONE WARS.

Next up was the main event of the day, an interview, or rather a performance, by Anthony Daniels (C3PO) (at 3:42 in video below).  I had already know that he was quite the crowd pleaser, and undoubtedly he pleased the crowd once again, myself included.  As soon as he strode out on stage and then on into the audience for high fives, he had the audience hooked.  When he first spoke in C3PO's voice and took the iconic pose (with elbows bent slightly), the crowd gasped.  I felt a buzz from it, like, "wow, C3PO is right here, right in sight."  Such was the power he sent into the audience whenever he went into character, which he only wisely did in moderation.  He also does a wicked impersonation of George Lucas.  I know that's how George really speaks, so it was extra funny to me.  This was by far my closest contact with true STAR WARS outside of the movies themselves.  I could have listened to him tell stories for hours.

The final speaker of the entire 3-day event was Ray Park (Darth Maul) (at 3:01 in video below).  Now all the day's speakers of course spoke in English, which then had to painstakingly be translated into Japanese by an interpreter on stage.  Each person had a different translator, and unfortunately Ray had the worst one, a total ham who didn't match with Ray's badass-ness.  Still, Ray gamely answered questions about Darth Maul of course.  He is really keen to play the character again, and I'd love to see a movie about Maul's training and early adventures.  The whole time UK Mike and I wanted to see Ray do some kung fu or something badass with a light saber on stage, but Ray said he was still recovering from a groin injury and couldn't do much, but did invite someone to come up on stage with him for something, but that was quickly nixed by an official from backstage popping it out and 86-ing it for who knows what reason, maybe because they were running overtime.  The interview ended with a pretty good Q&A session.  All questions were asked by Japanese.
After Ray left the stage I walked back out onto the main exhibition area, ambled up the stairs to the exit, turned to look once more upon everything, and bid adieu to STAR WARS, until August 16th that is, taking with me my autographed photo of Princess Leia (I didn't see her sign it) and other souvenirs.

STAR WARS CELEBRATION 2008 PHOTOS:
 
STAR WARS CELEBRATION 2008 VIDEO:
Anthony Daniels (C3PO) at 3:42
Ray Park (Darth Maul) at 3:01
Dave Filoni (Clone Wars director) at 2:30