Skimboarding 2008 – Session #04 – Hiratsuka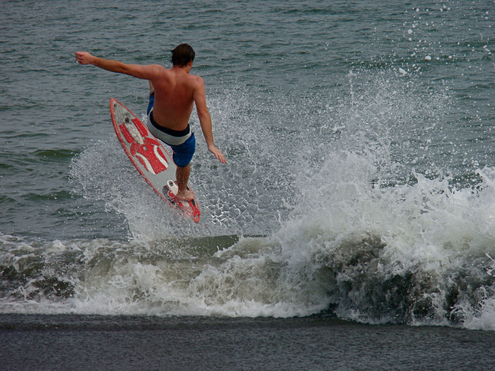 When Aya and I first arrived at Hiratsuka Beach stoked for our 4th skimboarding session of the year, we were immediately met with a crowd of "beach football" players who were having a huge tournament.  I had never even heard of the sport before.  We saw a lot of skimboarders walking away from the beach, though, up on the main sidewalk.  I thought there might also be a skimboarding tournament, but I guess since we were arriving at the beach itself just after 12:30pm, that's the end of the morning session for most Japanese skimmers.
Well, when I saw the wave conditions I could understand why they were all leaving.  Even though high tide had just past, there were virtually no skimmable waves at all.  Like none.  I just sat and stared at the ocean for like 30 minutes at first.  Finally, with some encouragement from Aya, I stretched and started my session for the day.
The waves slowly started improving, and I was inspired by the spirited skimboarding a "young ojisan" was doing about 50 meters to my left.  He just kept going on ride after ride.  Such energy!  I started to get into a rhythm and had a few big rides as some swells came in.  I wanted to have more frontside rides this time, and ended my session with a determined effort to get one last decent frontside carve in.  
Meanwhile, Aya in about 5 minutes learned the technique for quickly "stepping" onto one's skimboard!  I was shocked and impressed!  Learning this technique allowed her to have her best skimming session (of four lifetime) by far.  I am excited to see how much she can progress in the next session.  
I'm also excited about possibly becoming friends with the "young ojisan" skimmer.  We exchanged not a single word all day, but one time I was standing within a few meters of him and gesturing in frustration about some fools standing right in our drop in path, and I feel he shared in that annoyance.  Then as Aya and I packed it up for the day (I put in a 2-hour session!), we both turned and waved to the "young ojisan" who waved back, of course he still skimmed on.  I felt good.  Community.  It has been a very, very long time since I've had a skimboarding friend.  
The photos below were taken with Aya's Olympus ?1020 digital camera.  No video this time because I forgot to bring the Xacti HD700!
PHOTOS: