Gunma Japan Haikyo Urban Exploring!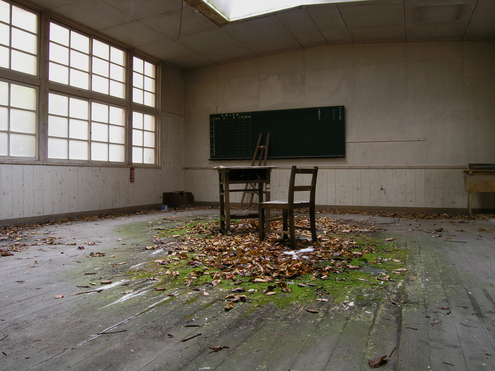 I went on my first ever haikyo, or urban exploring as it's called outside of Japan, with the Mikes in January 2008.  We rented a Nissan X-trail, which was a pleasure to drive by the way, and headed up deep into Gunma Prefecture, Japan.  Snow was everywhere and we were all very excited to be out of Tokyo and on our first adventure in a long time.  We went out seeking an abandoned theme park, volcano museum and schoolhouse.  We found them all, with varying degrees of difficulty.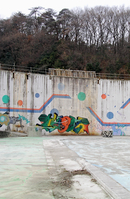 First up was the theme park, which had a demolition crew waltzing around in it!  Undaunted I zipped the X-Trail on through up a high dirt road.  We stashed it there and set out to see what little remained of the theme park.  We got to see an old kitchen and wave pool.  To see the latter we had to walk right past two demolition dudes.  Eventually though our luck did run out and someone came over to us asking us to leave.  By the time we all got back in the X-Trail the gate was closed and locked.  The main dude in the worker's trailer was not friendly at all and yelled at us.  Having enough of that we went to challenge the gate ourselves.  As if on que, as I drove up it opened!  Some other demolition dude wanted to drive in.  I said very matter-of-factly, "matta ashita," which means "see you tomorrow" in Japanese.  With that we sped on through the gate laughing all the way.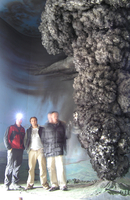 Next up was the "crown jewel" of the trip, the volcano museum.  Once again we had to somewhat go past workers of some kind, but once up on the ascending road to the museum, we were totally alone and had the run of the place.  We each entered the museum from an different point.  I just walked in the front sliding glass doors.  The Mikes took some upstairs way in.  The museum was really full of all kinds of super interesting things.  Besides a cool, towering eruption model (see photos), in the basement we found samples and records dating back many years.  It was quite an Indiana Jones moment.  We went from the basement all the way up to the observation deck which offered a sweeping vista of the valley below and the surrounding mountains, all of which were snow covered.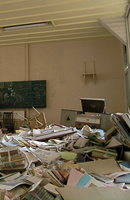 The next day we tracked down the abandoned schoolhouse.  This haikyo was the hardest to find because the road the car GPS navigation told us to take was closed due to impassibility!  We proved it was impassible too as we took the X-Trail as far up it (first having to move blockades out of the way ourselves!) as we dared.  Eventually the road was crumbling and we had to turn around.  The schoolhouse was in a very, very creepy and scary valley you enter through a tunnel in the mountains.  The place felt like a nowhere land.  Like a place you definitely didn't want to get stuck in overnight.  We found student and teacher dormitories still littered with personal items.  The schoolhouse itself had some eerie PAN'S LABYRINTH looking settings (again, see photos below).  We each went on our own way exploring here again before regrouping to explore the final building, which was possibly the headmaster's house.  Interesting adult material we found inside, no matter whose house it was!  I was glad to be gone from there before the sky darkened anymore.
Thus my first haikyo experience was a smashing success full of excitement, thrills and surprisingly many chills as well.
PHOTOS:
Gunma Haikyo VIDEO:

  

RELATED WEBSITES ON JAPANESE HAIKYO & URBAN EXPLORING:
BIG RED DOT — "Japan in Ruins"
Mike's Blender — "Great Escapes Haikyo!"