Skimboarding 2008 – Session #05 – Hiratsuka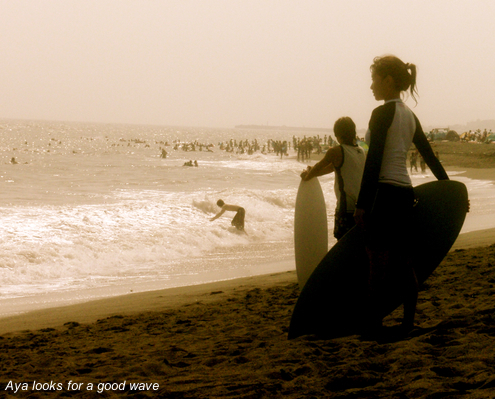 I was stoked as usual for this past Saturday's skimboarding session, but the waves were just not there for any kind of even modest session.  Walking to the beach I saw a few skimboarders leaving and from afar could see a few still down on the beach.  I quickly realized why there was almost no one out there, though, despite the beautiful day—the strong wind was just making all the waves way too sloppy.
Still, I didn't want to have gone all the way out there for nothing, so I grinded out a few semi-ok rides before turning my board over to Aya for her to continue to practice the quick-on technique she first learned last week.  
Then we were joined by UK Mike and a friend.  His friend tried skimboarding a bit, but the conditions were hard even for a 21-year vet like me, so not the easiest way to learn!  UK Mike himself dropped in for several fearless rides showing that the keys to skimboarding are speed and no-fear!  He had one nice ride getting up and over a wave.
In between all this I put in one other session where I started to find a line for getting some somewhat decent rides.  I ended it with a nice frontside floater and carve.  I got pretty high up on the wave, which always feels cool to do.  
PHOTOS: