Walk down my street in Tokyo Japan with Google Maps Street View!!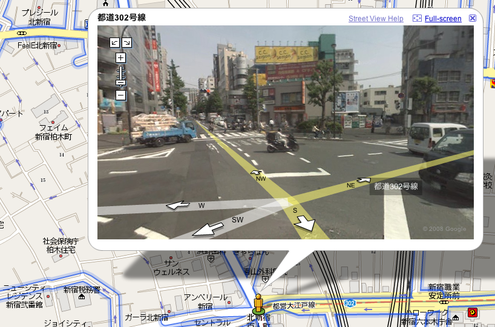 I had heard of course of Google Maps "Street View" before.  Street View is an option that literally shows the street in a series of connected photos on a regular Google Map.  Google employees ride around in a van recording the images.  This has lead to some privacy concerns and some people being caught in quite embarrassing positions.  Japan had been left out on all this fun, however.  Then yesterday thanks to a heads up from Akihabara News, I was surprised and stoked to learn that Japan has now been Street Viewed!
So of course the first thing I did was check out my street to see if I was caught by Google's cameras.  I wasn't.  It seems they photographed my street (Otakibashi Dori) on a weekday morning, at least before 10am and possibly before 9am.  I know this because their are quite a few people on the street in suits (hence a weekday) and the nearby NTT Docomo shop is still closed (it opens at 10am).  As anyone who knows me, I am not often out of bed before these times, so alas no potential for being caught in an embarrassing pose by Google.  
However, Japan Probe has already found some people caught in compromising positions.
Below is a Google Map Street View of my street, Otakibashi Dori in Shinjuku, Tokyo, Japan.  I won't tell you which building is mine in order to thwart fangirls and stalkers from swarming the place.  However, if you are very skilled, you may be able to extrapolate from my balcony videos which building I'm in.  
To walk down my street click on the person icon, then head NW (street view maps cannot be embedded).