Skimboarding 2008 – Session #06 – Chigasaki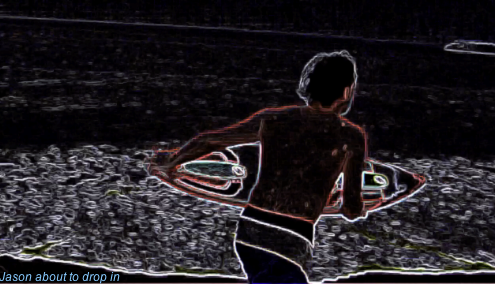 I wanted to return to skimboarding at Chigasaki beach this past Saturday for various reasons.  It is the beach I have skimboarded on the most in Japan, by far, and is actually the 3rd most skimmed beach of any in my 21 years of skimboarding.  The other reason was Aya.  I wanted to propose to her, and I wanted to do it at the most familiar, most special place to me in the Tokyo area.  Even though Chigasaki beach is little more than an ash tray next to the ocean, it is still special to me and it is still capable of producing some magic, and it did not fail me this Saturday evening.
Eventually a few waves did roll in, and I was able have some "make something from nothing" rides.  The beach was mostly empty and the rain mostly stayed away.  It was peaceful and calm that evening and I and I enjoyed the peaceful atmosphere, a nice change of the business of Hiratsuka beach.  And now we will both have very lasting memories of Chigaski.
VIDEO: