I was very surprised, and scared, to see this photo fullscreen back at home on my 24″ Dell!  I don't know what shot I was trying to get.  For sure I would never have snapped a shot of such a scaring looking ojisan (middle-aged Japanese man) looking directly at my lens.  I wouldn't take such a shot of anyone, I'm still rather a shy photographer and I only have 300mm of zoom, so I can't hide completely out on the streets of Shinjuku.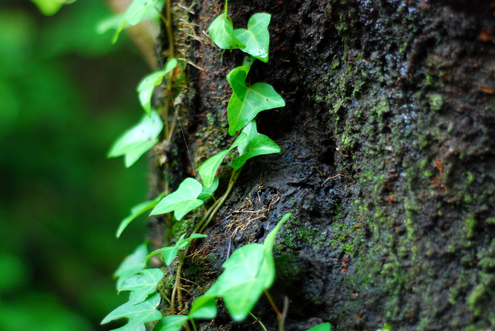 Though it took two trips to finally make it to Shizen Kyoikuen Park actual, in Meguro, Tokyo, Japan, it was well worth the effort as it is a unique Tokyo park/garden experience.  The full name of the park translated into English is the mouthful, "The Institute for Nature Study National Science Museum Tokyo" as it says on the English brochure handed to me at the entrance.  Ever since I was a little boy, I have been totally into getting up close and intimate with forests, so I was stoked to soon discover upon entering the park, that this wasn't the usual pond and pagoda setup of traditional Japanese gardens, but rather a 100-year old forest with long paths—a forest too large to seemingly still exist in Tokyo.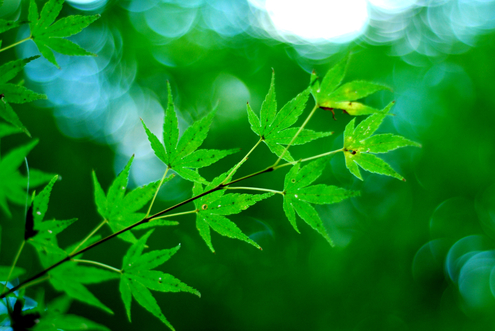 This shot was taken at Shizen Kyoikuen (The Institute for Nature Study National Science Museum) in Meguro, Tokyo, Japan on the first day of autumn.
UPDATE: This photo won "Photo of the Week" in Metropolis Magazine Issue #761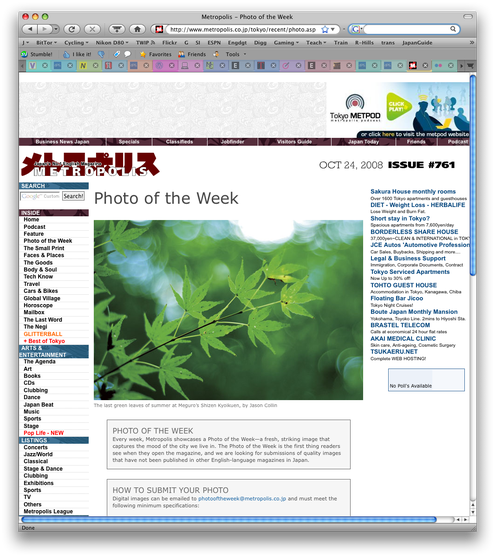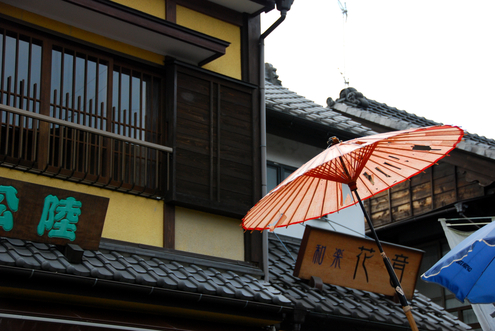 I have an ability to come up with a good plans for doing something out of thin air, that today led to Aya and I having a great afternoon walking around Kawagoe, Saitama, Japan.  Kawagoe refers to itself as "Little Edo" as its streets are decorated with old, traditional looking buildings and shops (which of course are only made to look old).  Mostly obasans and ojisans populate the sidewalks with a smattering of families with kids.  For some reason, I tend to like a lot of things that obasans do, so for me Kawagoe was a great place to spend the afternoon sampling Japanese snacks and of course taking a lot of photographs. [Read more]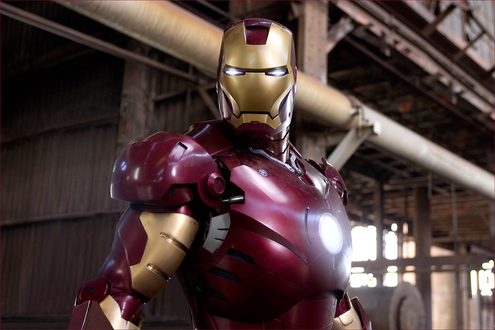 Let me start by saying that if you heard, like I did, that IRON MAN was a rival in movie badass-ness to THE DARK KNIGHT, that was a gross exaggeration.  IRON MAN is a better than average summer blockbuster action movie, but, like most movies of the past ten years, is not even remotely in the same stratosphere as DARK KNIGHT. [Read more]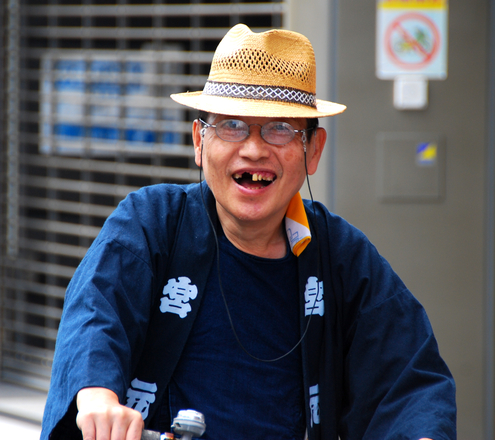 I took this shot during the Autumn Equinox Festival at a shrine along Ome Kaido in Shinjuku, Tokyo, Japan. I had already taken like 150 shots of the festival goings on, but toward the end I started to focus on faces in the crowd. I saw this ojisan (older Japanese man) pedal up and right away his unique smile caught my eye. I took two shots of him. I hand no idea until I got home and looked at the print I had made of the photo that he was looking right into my camera. [Read more]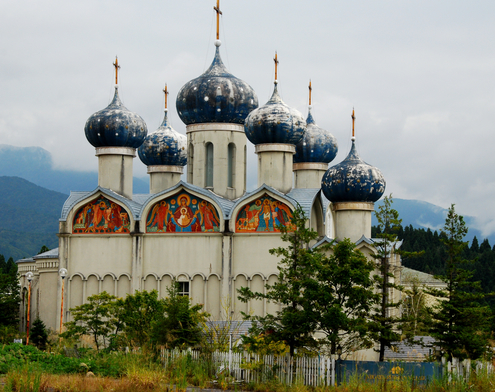 This haikyo trip to a Russian Village tucked away up in Niigata Prefecture, Japan, was my first ever overnight stay in a haikyo (urban exploring), and also my first ever time to stay overnight in a hotel–without paying!  Me, UK Mike, the Can, and Scott took an X-trail up to Niigata (piloted by yours truly).  It was Scott's first ever haikyo experience.  I think this haikyo trip, though, produced a number of firsts for all of us, like getting busted by the 5-O, cooking with an open flame in a hotel room, riding mammoths, and spending quality time in a church on a Saturday night.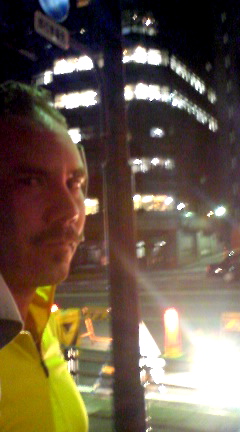 FULL RIDE STATS:
Distance: 15.81 miles

Time in motion: 59 minutes 44 seconds

Average speed: 15.9 mph

Max speed: 28.8 mph
3-LAPS STATS:
Distance: 9.39 miles

Time in motion: 30 minutes 59 seconds

Average speed: 18.2 mph
It always feels good to get back in the saddle, and this time was no different, except this time I didn't feel so good once getting back in the saddle!  I swear it seems every time I go cycling on a week night, I end up eating green Thai curry before the ride, which takes me forever to digest.  I've t
hrown up such undigested curry twice
in the past, and although I felt a hint of nausea this time, I managed my pace so as to keep all food down.
This was my first cycling of autumn, and I noticed the temperature difference immediately.  There was a hint of a chill in the air.  However, I wore my usual summer cycling attire–yellow short-sleeve jersey and thigh length biking shorts.  And I still sweated a helluva lot despite the cooler temps.