Brief cycling for Shinjuku night photos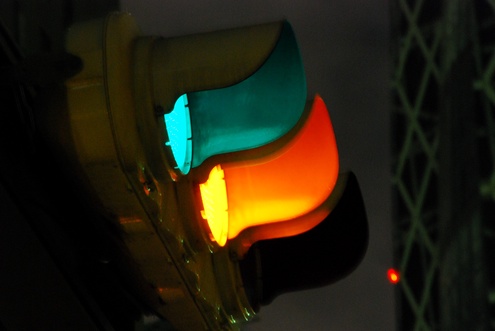 RIDE STATS:
Distance:  2.13 miles  

Time in motion:  13 minutes 39 seconds

Average speed:  9.4 mph

Max speed:  17.4 mph
As you can tell from the stats, this wasn't a hardcore ride, or even a light exercise ride.  Rather it was my first time to try riding with my
Nikon D80
in the handlebar bag.  It worked well as I made the brief ride to the
Shinjuku
skyscraper district to try my hand at handheld night shots of the skyscrapers.  
I've long liked one particular spot near the Keio Plaza Hotel over a kind of bridge, or rather a regular road that just happens to have another road go under it. I was drawn to it perhaps on my very first wandering into the skyscraper district some five years ago. All photos in the photo gallery below were taken from that spot, save for the two shots of the entrance to the Keio Plaza Hotel.

The above shot of the traffic signal showing both a green and yellow light was accomplished by handholding the D80 as best I could as the shutter stayed open for 1.6 seconds. I had to use the Force to know when the light would change, and luckily, like Luke, I was right on the money on my first and only try.
All shots in the photo gallery were handheld and taken at an ISO of either 1000 or 1600.
Oh, and the 13 minutes of cycling was nice too!
HANDHELD SHINJUKU SKYSCRAPER NIGHT PHOTOGRAPHS: