Shimoda Izu Birthday Trip 2008 with Aya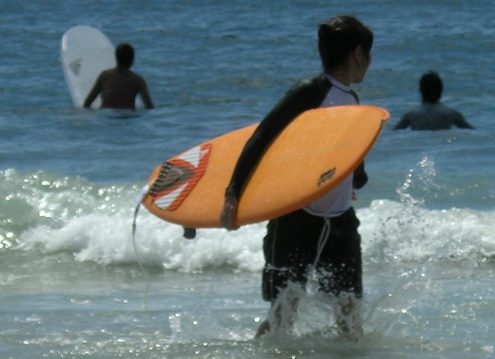 Largely by accident, going to Shimoda, Izu in Shizouka Prefecture, Japan has become an annual summer ritual.  It started two summers ago with the Can, which was the best road trip I've ever taken in Japan.  The tradition continued this summer, and it was my third birthday in a row spent on Tatadohama Beach, but my first ever with Aya.  We drove her dad's car down my favorite strip of road in Japan, Rd. 135 along the coast all the way down to the very tip of the Izu Peninsula where Shimoda dwells, seemingly forgotten by Japan at large, but gladly adopted by me as my summer getaway from the madness of Tokyo.
Aya's surfboard and my skimboard were all traveling with us, my sweet DLO fm transmitter was pumping out sweet tunes via my iPod via, and the weather was good.  However, despite all these things, the trip was nearly an epic fail, saved only by the dynamic Aya and I have between us that powers all good things for me these days.  
Why almost an epic fail?  Because Shimoda is not totally off-the-map anymore.  It seems that, in particular, Brazilians have discovered it and things were very crowded on Tatadohoma Beach which is usually able to accommodate all who wish to sleep near or upon it.  Getting a parking space was a battle.  The partying went on late into the night, and the revelry resumed at 5am sharp.  Tatadohama always has large waves, but almost nothing which didn't offer Aya much for surfing, though she managed to catch a few still.  
Most unbelievably was always faithful Ohama Beach not having any waves either, the first time I've ever seen poor skimboarding conditions at that beach.  And again it was taken over by way too many visitors, many of which were there simply to intoxicate themselves and get in the way of legitimate beach actively, namely my skimboarding.
Then, on the second night, it started pooring raining.  There were not even any hotel rooms available.  So Aya and I decided just to drive back to Tokyo at 10pm at night!  It was a great adventure in heavy rain listening to The Doors.  Another benefit of this late night cruise home was no traffic.
It was sad that Shimoda, for the first time, failed me, but it was great to finally go on a road trip with Aya and share one of my favorite things in the world with her, rocking out while driving.
IZU 2008 WITH AYA PHOTO GALLERY
VIDEO of IZU WITH AYA 2008