Skimboarding 2008 Session #07 – Hiratsuka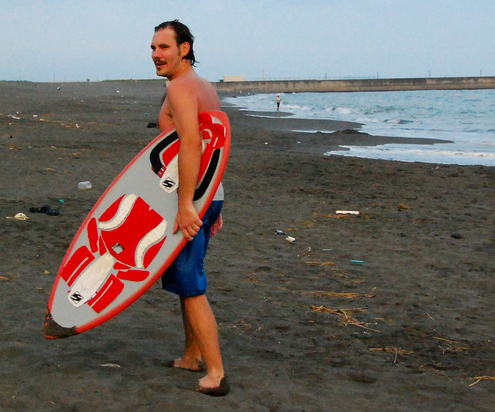 It  had been quite some time since Aya and I went to a Shonan beach for a proper skimboarding session, and I can't really that this session at Hiratsuka was that proper.  It barely ranked enough to get session #07 designation.  There were absolutely no waves at first, and virtually no skimmable surface at all.  Still, a group of 5 young j-skimmers were grinding it out the whole time, but it mostly looked like they just enjoyed falling.  Things got a bit better at the last minute.
Once Aya got a few rides in, she went for a shallow swim.  Her standing in the water gave me a kind of "target."  Trying to skim out to her (and possibly spray her with a well placed wave carve, not as hidoi as it sounds) gave me inspiration to have some decent rides!  Also, seeing her laugh and smile at my failed attempts raised my own spirits.  
In the end I was able to go out on a very good final ride.  It was a huge front-side flair that felt great.  A big, smooth ride like that is always good to end on if one can.  And considering the utter lack of waves for most of the day, I was very content to go out like that.  Before that ride, I had a few nice "over the moon" rides as I call them, that entail skimming in an arc toward the beach, away from the ocean, over wet sand only.  One of those rides surprised Aya and me as well for its length and smooth and speed upon finally entering the ocean.  
SKIMBOARDING SESSION #07 PHOTO GALLERY