First Fall 2008 Cycling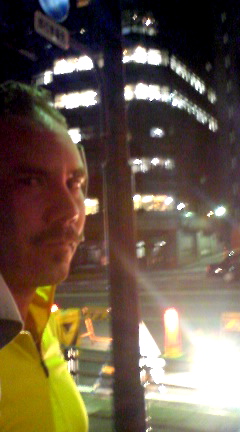 FULL RIDE STATS:
Distance: 15.81 miles

Time in motion: 59 minutes 44 seconds

Average speed: 15.9 mph

Max speed: 28.8 mph
3-LAPS STATS:
Distance: 9.39 miles

Time in motion: 30 minutes 59 seconds

Average speed: 18.2 mph
It always feels good to get back in the saddle, and this time was no different, except this time I didn't feel so good once getting back in the saddle!  I swear it seems every time I go cycling on a week night, I end up eating green Thai curry before the ride, which takes me forever to digest.  I've t
hrown up such undigested curry twice
in the past, and although I felt a hint of nausea this time, I managed my pace so as to keep all food down.
This was my first cycling of autumn, and I noticed the temperature difference immediately.  There was a hint of a chill in the air.  However, I wore my usual summer cycling attire–yellow short-sleeve jersey and thigh length biking shorts.  And I still sweated a helluva lot despite the cooler temps.

I had the fastest drop-in yet to the Imperial Palace loop.  The whole first half of the first lap was completely traffic free.  This gave me ideas of setting an overall new speed record.  But, by the time I got to the first backside climb and got out of the saddle to power up it, I got a hint that my legs weren't going to have anything to do with setting a new record this time, and my unsettled stomach confirmed it.
The second lap was really slow hampered by 3 or 4 significant red light slowdowns.  Still, I didn't want to just throw in the towel and barreled down the huge descent on the 3rd lap and powered down the half-way straightaways.  I couldn't manage anymore than 5 or 6 cranks out of the saddle on the 2nd-lap ascent, and the 3rd-lap ascent was no different, but even though I dropped down to 3-4 gearing, I kept my legs churning all the time and ended up with a better time than my earlier September ride, which made me feel good.
I see now just how much I have to do to get back in shape!