Niigata Russian Village Haikyo Urban Exploring!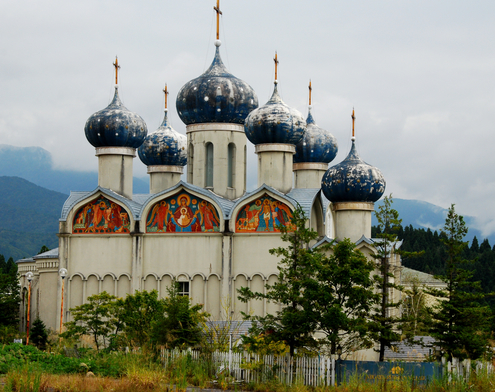 This haikyo trip to a Russian Village tucked away up in Niigata Prefecture, Japan, was my first ever overnight stay in a haikyo (urban exploring), and also my first ever time to stay overnight in a hotel–without paying!  Me, UK Mike, the Can, and Scott took an X-trail up to Niigata (piloted by yours truly).  It was Scott's first ever haikyo experience.  I think this haikyo trip, though, produced a number of firsts for all of us, like getting busted by the 5-O, cooking with an open flame in a hotel room, riding mammoths, and spending quality time in a church on a Saturday night.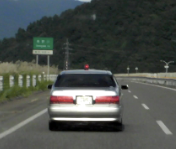 First, on the drive up we had nothing but open road on the highway.  I was of course on the horse doing 87 mph (140 km/hr) most of the way, and not really passing anyone.  Well, some sneaky undercover 5-O stowed its roof light and chose us (coincidence?) out of the many other people speeding past him to slowly, slowly, slowly pull over.  Really, we had to follow him for like a mile and a half before he finally told us to pull-over.  Well, this wasn't the first time I had been pulled over for speeding, although the first time in Japan, and I had never gotten a ticket yet.  I know how to handle the 5-O in the U.S. and it seems those skills also apply to the j-5-O as we got off with just a condescending warning!  Nice.  
After that slow-down and a bit of a challege finding the Russian Village itself (thanks to the gas station ojisan who helped us), we finally made it to the haikyo safely under the cover of night.  We did a pretty thorough exploration of the whole theme park, which was covered in spider webs suspending their large owners.  UK Mike's specialty is leading the way through such obstacles, and we appreciate that as I don't think any of the rest of us wanted to go headlong into that.

After the midnight exploring we retired to our own hotel room!  It was in nearly immaculate condition considering it had been closed for the past 6 years.  The park itself was only open for about 6 months before closing down!  A huge waste of money.  There were all kinds of valuable things still lying around, like TVs, copy machines, a grand piano, dishes, and furniture of all sorts.
We woke up the next morning and the Can and I had a hot breakfast.  The park, as one would expect, looked totally different in daylight.  I will let the HD video and photo gallery below speak for what the Russian Village looked like.  (thanks to Scott for filming in the X-trail, it is all about video content some say)
HD VIDEO OF THE RUSSIAN VILLAGE THEME PARK IN NIIGATA, JAPAN:

PHOTO GALLERY OF THE RUSSIAN VILLAGE THEME PARK IN NIIGATA, JAPAN:
Another haikyo I've been on:
Other posts about the Niigata Russian Village Haikyo: