People of Meguro Station in Tokyo Japan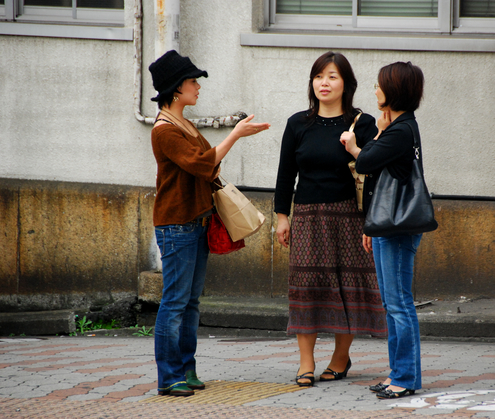 "Dude," you might ask me, "what's so damn interesting about Meguro station?"  And I'd answer, "Dude, not much at all.  I just happened to have to go there this afternoon."  Thus, the not so interesting description of the below photo gallery goes.  But, there is one interesting note to add about the Japanese 5-O.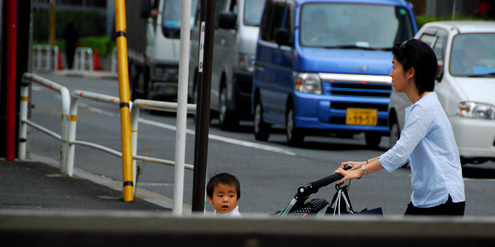 Yeah, so about the Japanese 5-O . . . I was shooting for about ten minutes with my trusty Nikon D80 and Nikkor 18-200mm VR lens, so I had the zoom to stand out of the way and not look like a stalker for these photos.  I was sitting on a white railing like you see in the photo above a good five meters from the intersection I was mostly shooting.  I also happened to be basically right in front of a koban (a police box).
Just when I was finished shooting and fixing to put my lens cap on, a Japanese 5-O shuffles over to me asking me in Japanese if I can speak Japanese.  I of course can a little bit, but of course in that situation I pretended I couldn't.  He went on to be like in Japan it's not appropriate or something like that to take photos of people.  He said sightseeing stuff is ok, but not people.  Being a rebel, I was like, "dude, I was taking photos of cars," which I was occasionally.  I even showed him a shot of a truck on my camera.  He said that is illegal to do too!  
Ha!  So I made the wrists together sign like, "dude, are you going to arrest me?"  He yammered a bit more, and then just stood awkwardly about a meter away not looking at me anymore.  As I said, I was ready to go already anyway, so I just put my D80 away and while doing so noticed the Japanese 5-O had ridden off on his bicycle already.
You can see HIM in the last photo in the below gallery.
PEOPLE OF MEGURO STATION PHOTO GALLERY: