Sotobori Dori to Harumi Dori Day Cycling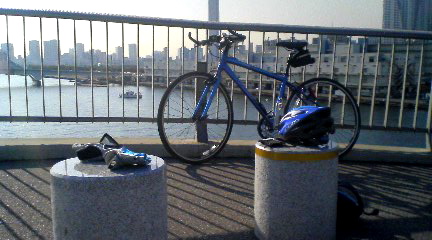 FULL RIDE STATS:
Distance:  14.17 miles

Time in motion:  59 minutes 59 seconds

Average speed:  14.2 mph

Max speed:  28.4 mph
I hadn't gone on a ride where I did not really know where I was going in a long time (not since July 31st!).  It also felt good to ride in brilliant sunshine in early afternoon while most other people were working.
I started down Shinjuku Dori and felt strong, and briefly considered just going to do more laps around the Imperial Palace, but upon seeing the traffic at the Yatsuya intersection, I stuck with my original plan of turning right at that intersection, and I'm glad I did.  I soon found myself on Sotobori Dori and just rode it until it's natural end.  Along the way I met a friendly ojisan who asked me where I started out cycling from.  Turned out he came from Shinjuku to and was heading to Hibiya.  When he asked me where I was going I just shrugged my shoulders since I had no destination in mind.
Sotobori Dori lead me to a familiar site on Harumi Dori, a large traditional looking Japanese building (I'm not sure what it is).  So I decided to hang a right there and go over the large bridge to the north of Odaiba and then right back over it again, a double climb.  I was able to do that rather strongly, doing a majority of it out of the saddle.
Once back to the summit I took a break and enjoyed the view, which you can see in the above photo.  All in all it was a great day ride that I need to do much more often.