Skimboarding 2008 Session #08 – Farewell Chigasaki, Japan!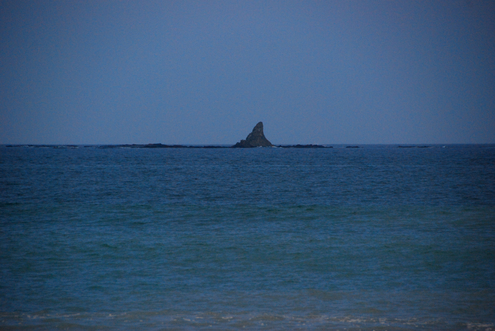 What you see in the above photo is a mysterious rock out in the middle of the Pacific Ocean.  It is the symbol of Chigasaki.  I have no idea how it was formed or what it really is.  Despite skimboarding this place for the past six summers, I never investigated its meaning.  And I do not want to know.  I always imagined it as a great shark's dorsal fin.  The rock is very mysterious, for as you walk further from it, the stone actually appears closer to you.  Such is the scene of my first ever skimboarding in Japan back in June of 2003, and my final session in October 2008.
I am leaving Japan early next year, after what will be nearly 6 years of living here.  Being a very nostalgic person, I will have many emotional farewells to my favorite places in Japan (even though Tokyo has driven me crazy in the end).  None though I feel will be as emotional as the good-bye I had to make to Chigasaki Beach.  
Skimboarding at Chigasaki was the first tradition I established upon moving to Japan.  Like other beaches I've skimmed regularly, I discovered Chigasaki, thus my great affection for it, despite the beach in reality being little more than a large ash tray with diminishing waves the past few years.  Yet there is nothing in Japan I love more than Chigasaki.  It was my consistent escape from May to the end of October ever year I lived here.  It was my own.  I took very few people there, for few were worthy.  On Saturday evenings when there was no one, there was Chigasaki.  

I took the exact same stuff to Chigasaki each and every time.  In the above photo you'll see my trusty backpack (from Korea) with my skimboard's protective sock lumped in front of it.  To the right are my also trusty water and Aquarius bottles.  All of this sits on my very trusty tatami straw mat.  And of course on the far right lie my skimboard and surf shorts.  Each item is as beloved to me as any person.  
My favorite food to eat after skimboarding was kim (Korean dried seaweed) and genmae (Japanese organic brown rice).  After a usual 90-minute skimboarding session I would lean back on my backpack and stare out at that mysterious rock off Chigasaki's shores, eating my seaweed and rice.  Then a Meiji Black chocolate bar.  
There are so many customs involved with going to Chigasaki, from taking note of every one of my favorite houses along the street to the beach, to watching people play tennis, to wondering why the owner of a small, but nice RV never took it out.  I even listened to almost exactly the same music from my apartment to Shinjuku Station to the beach every time, with little variation, as has long been my skimboarding custom even back in Florida.
How was my 8th and final skimboarding session of 2008 and my last ever session in Japan?  Modest and appropriate and what one would expect of a late October session on a gray but not depressing Saturday afternoon.  
I say farewell to thee, Chigasaki.
FINAL JAPAN SKIMBOARDING SESSION PHOTO GALLERY:
FINAL JAPAN SKIMBOARDING SESSION HD VIDEO: