Last night time Palace laps?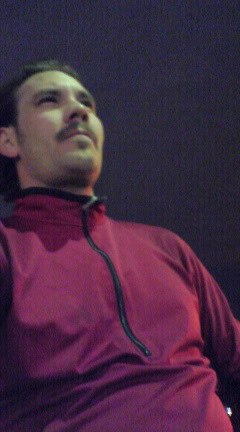 FULL RIDE STATS:
Distance: 15.87 miles

Time in motion: 1 hour 03 minutes 54 seconds

Average speed: 14.9 mph

Max speed: 26.4 mph
3-LAPS STATS:
Distance: 9.40 miles

Time in motion: 33 minutes 58 seconds

Average speed: 16.6 mph
I am actually writing this cycling report like 10 days later.  That's how turned off I was by this ride.  I couldn't even get myself to write about it until now.  It was my first cold weather ride of the year, thus the first time I donned my winter Pearl Izumi cycling pants and full finger winter gloves.  The pants may not have been necessary, but I never actually felt that overly warm.  The gloves were definitely needed.
 
About this ride . . . well, right off the bat once I got to the palace I got totally boned at one of the first lights on the huge decent, which should be the fasted section of the loop.  I had never have to come to almost a complete stop there before.  Usually I just whiz by at 28mph.  This time I was stuck tip-toeing between traffic stopped at the red light.
 
And then it was just a total parade of red lights.  Plus some street lights on the Tokyo Station side weren't working so it was quite dark.  Then some fool tried to challenge me on the ascent section.  I thought it was a real cyclist on a road bike, so I yielded a bit as I felt they were just shadowing me and I didn't like it.  Turns out it was just some fool (j-dude) on a not mama-cheri but some slightly better city bike trying to be a hero.  It just annoyed me and I quickly passed him and dropped him.
 
My times were crazy slow for the 3-laps.  Of course the near constant red lights did me in, but also maybe switching to pants instead of my near zero resistance bike shorts slowed me a bit, but basically I was defeated mentally by the whole experience.  It was also a very rare Monday night palace ride, or even the first ever.
 
But what really, really got  me, was this:  Riding back home, behind a cop car going too slowly, a commoner on a mama cheri bike totally coming in from a cross street cut off the cop car!  The cops had to brake to avoid hitting him.  No helmet, no front or rear lights, and he ran a red light making an illegal left turn to enter the road.  Did the cops even blink?  NOTHING.  They did nothing.  Not even a warning.  They just continued to drive slowly.  So finally I passed them (from the right) and cut them off when I re-entered their lane!  Ha!
 
Then in Shinjuku another fool (j-dude again) in a huge black, SUV just randomly brakes in the middle of the road coming to a near dead stop then turning and parking (illegally) on the side of the road.  I was right behind him and he either could have caused me to hit the back of him or more likely sideswipe me as he pulled over without signaling!
 
I had had too much by this point.  I went up to his window and was like what the hell?  He flippantly said sorry, as usual, totally oblivious.
 
I got home in a rage and I still burn to this day.  I may never do the palace laps at night again.  It's just an exercise in frustration.  Cycling in Tokyo with purpose is a fool's goal.  You WILL get boned by the city somehow, and you have to know that even the cops will do nothing about it.
 
I will still ride during the day and maybe at night, but not with speed goals in mind.  It's sad really, but yet another reason why I can't wait to leave Tokyo.  It's a totally cycling un-friendly city.