Autumn Dusk Skies of Shinjuku 2008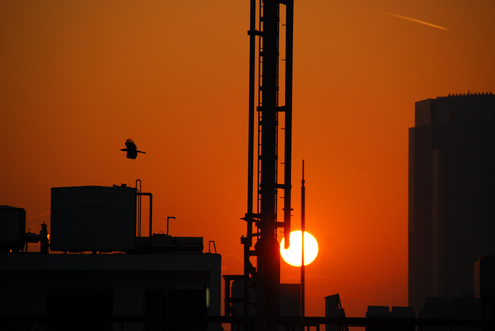 There is no doubt I pay way too much for my shoebox of an apartment in Shinjuku, Tokyo, Japan.  Yet, there are certain benefits to living in the building I do.  One of the greatest is the ability to see the sunset each and every day the weather allows for it.  Over the course of the year the sun sets over distant mountains in summer, to behind Shinjuku's skyscrapers in winter and to where it can be seen setting in the above photograph, between the skyscrapers of Nakano-sakaue.  Autumn often offers the best sunsets and dusks skies, and even the very rare orange sunset (above).
Dusk is my favorite time of the day, and it comes early this time of year in Tokyo, about 4:30pm.  I am often home at this time, which is another reason why I like autumn sunsets the best–because I'm actually home to see them pretty much every day.  

All photos above and in the gallery below were taken from my balcony and were handheld shots using my Nikon D80.  Around dusk on week days I'm often working at my desk, which is right beside my balcony doors.  So when I look over my right shoulder and see a good dusk sky, I hop up and grab the D80 and take a few shots.  Five minutes later the sky will have changed, so I'll go out on the balcony again and snap a few more shots.  Not having such sunset views anymore will be one thing I will miss about living in Tokyo once I return to the U.S. next year.
AUTUMN DUSK SKIES OF SHINJUKU PHOTO GALLERY: