Faces of Tokyo Series: Takadanobaba on Tuesday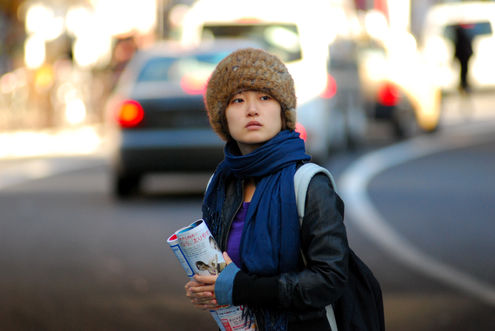 The second installment of my FACES OF TOKYO photo series took me to Takadanobaba, an area of Tokyo known for its college town feel, or at least as much as that is possible within a metropolis.  This was not as easy a set of photos to take as the Kabukicho ones, as I wandered around for over an hour at first trying to find a good spot.  I worried that it might turn out to be a FAIL, but I eventually settled down where I began, in the square right across from Takadanobaba station and had an all together different experience shooting here than I did in Kabukicho.  Several people actually smiled and seemed to be happy to be photographed!  Joy for them and me.
Takadonobaba, as I expected, did not have quite the diversity of people as Kabukicho did, but I was ok with that as I was more concerned with learning how to use my new Nikkor AF ED 80-200mm F2.8D lens.  It took at least a 100 shots to start finding the settings that worked best for the lens, and I'm sure I will continue to refine them.  This lens replaced the first ever lens I bought, the now sold Nikkor 18-200mm VR lens.

The woman pictured above smiled at me as she saw me shooting her as she walked by.  The photo shows her turning again after she passed me to offer another smile.  I took that as approval to photograph her again, and maybe she was even flattered?  This one not the only smiling occurrence.  
A twenty-something Japanese girl not only smiled, but even posed giving a peace sign and model stance, however, I only captured her smile as I had lowered my camera when she started posing.  Her encouragement made me more bold and produced more of the shots you see below I might not have otherwise taken.
The Nikkor 80-200mm lens is fairly large to moderately huge, especially with its lens hood on.  I think this may have added a certain sense of respect and tolerance by passersby to being photographed.  I was seated most of the time as well, and had a hint of a smile on my lips the whole time as the smiles a few people made into my lens were quite infectious.  
It was another great and joyous (for me) street photography session.
TAKADANOBABA CANDID STREET PHOTOGRAPHY GALLERY: