Cocoon Tower Shinjuku's newest skyscraper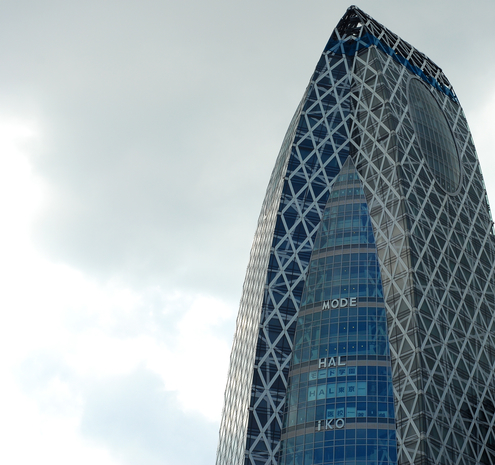 I thought that Cocoon Tower was just a nickname.  However, when I saw "COCOON TOWER" over the main entrance, it hit me that that was really the name of Shinjuku's newest skyscraper.  Thus the 17th tallest building in Tokyo (sounds sad) is named after something that could also be the name of Mothra's egg receptacle.  Since I've lived in the heart of Shinjuku for over five years, such a radical change to my daily view of the city takes some getting used to.  The design of Cocoon Tower is not something one can come to an opinion on upon first viewing.  It is at once totally out of place among Shinjuku's other more staid skyscrapers, but also maybe a welcome shake up to the skyline.
The cocoon moniker is deserved, as both the building's shape and outer glass facade have a fairly convincing resemblance to a high-tech cocoon.  On sunny days the glass of this facade has a blue hue to it.  On overcast days or in shadow, it appears gray.  If the curves of the building are unpleasing when viewed from afar, a close-up and straight-up view will reveal some elegant curves that soar all the way up to its summit.

For some reason Cocoon Tower was given a companion triangle-checkered globe.  As cool as it looks from the outside, on the inside it is stark, sterile and on the day I visited, boring.  The above photo is the view from the inside out of the globe's triangular window pattern.  
It never occurred to me to go to the top of the tower on the multiple trips I made to compile the photographs for the gallery below.
COCOON TOWER PHOTO GALLERY: