Faces of Tokyo Series: Coming of Age Day at Meiji Jingu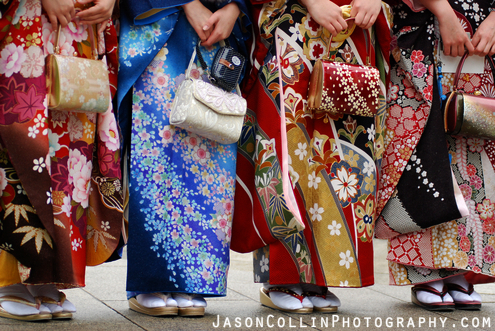 A flickr friend gave me the heads up about the good photography opportunities at Meiji Jingu Shrine on Coming of Age Day, or Seijin in Japanese.  It was also a chance for me to finally meet that flickr friend, Vladimir Zakharov, whose photography I have been a fan of for some time.  I of course assumed there would be a good number of other photographers there, as Meiji Jingu is perhaps the most popular shrine for such events in Tokyo.  I had heard that the girls did not mind posing for the cameras as well.  I had no idea how much they did not mind and how much the photographers were willing to give them orders!
In general, Coming of Age Day in Japan is for girls (and to a lesser degree boys) that turned 20 years old in the past year to get dressed up in kimono and go to a shrine and make a prayer/wish for their future.  The kimono the girls wear for Coming of Age Day are much more brightly colored and flamboyant than the kimono you will see older women wear to important social events.  

The girls above are not being glib about their praying.  They are in fact tiring of being given orders on which pose to pray in by a bossy ojisan (middle-aged Japanese man).  To my great surprise, several ojisan photographers would literally walk girls over to where they wanted to photograph them then proceed to give them orders on how to pose and where to look.  Perhaps even more amazingly was how many girls were willing to comply!  At most in exchange they got someone to take a photo of them with their own small digital cameras.  In return, the photographers got to take shots of them with unobstructed backgrounds or in the act of praying/making a wish.
This was actually kind of comical and in good spirits though.  I laughed often as one ojisan was saying things like, "ok, stand up straight,"  "please move the hair out of your eyes," etc.  I was also thankful as it allowed me to get some good shots with good backgrounds as well!
This is how it went:  the girls in kimono would enter the shrine area and boom, like paparazzi, photographers would gather around them, presuming they were pretty girls.  Yes, chubby and less pretty ones were virtually ignored!  Many girls willingly stopped and posed for the photographers.  They would even turn and look at each person's lens if requested.  This went on anywhere from 5 minutes up to one girl who stood around for 20 minutes.  She loved the attention obviously.  Other girls looked less comfortable with it.  
As for myself, I felt bad as first, but then realized this is how things worked so joined in and got some experience as being a paparazzi!  I never gave an order or asked for a girl to look into my lens, nor did I get right up in anyone's faces as I saw several photographers do.  (my close-up shots are with a long 80-200mm lens)
All in all, I think it was an experience the girls, and at least myself, will not soon forget!
COMING OF AGE DAY AT MEIJI JINGU SHRINE PHOTO GALLERY: 
More from the Faces of Tokyo Series: