Candle Night at Kandagawa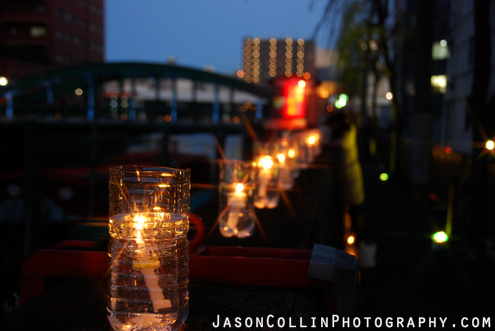 Aya and I happened to be in the Nihonbashi area for a festival, so only by chance did we come across Candle Night at Kandagawa.  This was 700 candles floating in cut off 2-liter plastic bottles all put on display by university students to promote environmental awareness (the irony of using so much plastic is not lost on me).  We passed by while it was still a bit light out and they were setting up.  We were given a flyer and told to be sure and come back after dark.
When we returned not all the candles were lit.  There were not that many students performing the lighting, and I felt like I almost wanted to help them get the job done!  There were not that many onlookers, so maybe that's why they appreciated me taking the time to take so many photographs of the candles.  
There was a video being projected on a street wall showing the surprisingly complicated apparatus they designed for housing the candles.  The 2-liter bottles were filled with water so the candles would float prettily, but also in case the bottles fell over the water would douse the flame.  
Candle Night in Kanagawa was the cap to one of my best days in Tokyo actually, mostly due to the amazing festival we had witnessed earlier.