Doctor's clinic in ruined black & white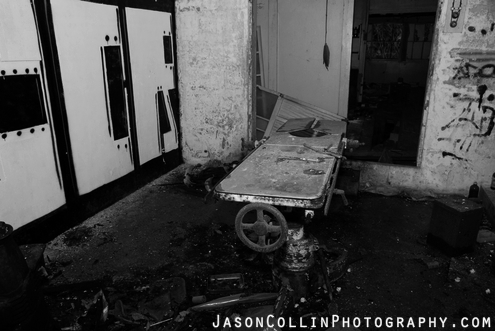 This was a return to a place upon first leaving I thought to myself, "this was a fell place.  I do not wish to return, ever."  Yet one year later I returned to the abandoned mining town in Gunma Prefecture, Japan.  The lure this time was a previously overlooked doctor's clinic that held rumors of such oddities as  a "preserved brain" in a jar and decaying surgical instruments.  All the rumors, it turned out, were true.
I do not believe sunshine ever touches the fell valley where the haikyo mining town sits in an omnipresent overcast mist.  No rain was falling this time, but it was cold and grim as ever.  Even knowing that the doctor's clinic existed did not make it any easier to find this time.  There were no big red crosses nor blue ones.  No medical insignias upon sign posts.  The first clue that the building was the doctor's clinic was only found in the building itself in the form of a narrow stretcher, listlessly lying upon rubble in the middle of a sagging room.

Solid confirmation came when I saw up close the much rumored "preserved brain" as seen in the photograph above.  Discovering the brain was almost like discovering the Holy Grail so much had it been discussed previously among my haikyo enthusiast friends.  I looked upon it transfixed fighting many urges to remove it from its jar and hold it in my bare hands.  The urge to take a bite of it even entered my mind!
The other rooms of the doctor's clinic were all horror movie set ready.  Rusted instruments and a terrible examination table decorated rooms with sunken and rotted floors.  If all that were not enough, the end room belonged to a dentist whose floor was littered with broken teeth molds.  They crackled under foot as I blindly trod upon them at first.
I can now safely declare, that never again shall I visit that fell valley.  Never.
DOCTOR'S CLINIC RUINED IN BLACK & WHITE PHOTO GALLERY: