UNFORGIVEN [1992] review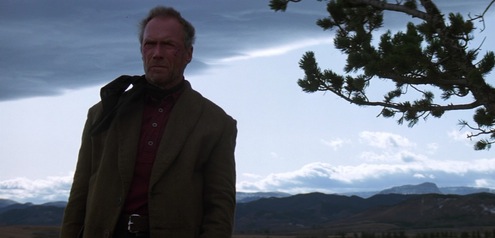 "We all got it comin' kid."  "I ain't like that no more."  "Well he should have armed himself after he chose to decorate his establishment with my friend."  "It's a helluva thing killing a man."  UNFORGIVEN is one of my top-10 favorite movies of all-time.  It was from my very first viewing of it 17 years ago.  I rewatched it tonight because I wanted to share the movie with Aya.  Right now, I'd be hard pressed to name a director I like more than Clint Eastwood, and I can say that for actors as well.  
UNFORGIVEN won the Oscar in 1993, and deservedly so.  It is the apex of Clint's style of squinted, looking off into the horizon, understated acting.  I idolized this move back in 1992/1993.  I know I saw it at least twice back then.  To me the movie stands out because of its dialogue.  The stories told in different scenes are all captivating.  When Little Bill tells how a gunfight really went, I'm as enthralled as Mr. Beauchamp is listening to it.  
UNFORGIVEN is a movie that will make you long for the American west, the most iconic location in all of movie history, even more so than New York City I feel.  
The supposed bad guy Clint Eastwood's character is in the movie is not seen until the end.  He's so serene now and accepting of what he once was and so certain that he is not that anymore, the viewer could confuse him for a kindly old man.  When things start to get hairy and the business that needs getting done needs to get done, it is Clint's character that takes care of it.  
Yet he is compassionate in it still and perhaps doing it out of rote habit.  "Give him a damn drink of water, I'm not gonna shoot."  That peace offering seems to completely mask the murderous deed that was just attempted.  
The climax is classic badass Eastwood and the scene opens brilliantly.  It plays out electrically, while at the same time sucking the air out of the room.  Yet it is done with no fanfare.  It's just done.  
The movie is bookended with the same poetic image and music.  
UNFORGIVEN is a western in its own class and cannot be compared to the classics of decades earlier, as the former frees itself entirely from having to conform to or include any supposed mandatory western hallmarks (i.e. the annoying comedic relief character).  UNFORGIVEN is just a helluva thing.