DISTRICT 9 [review] 2009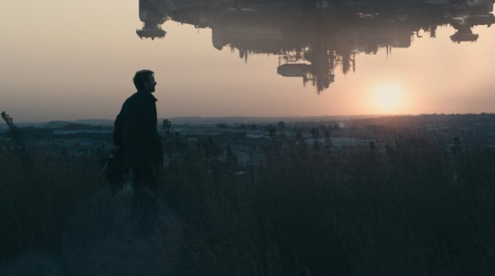 A movie like DISTRICT 9 would never have come out of nowhere to wow me when I was living in Japan because I had the time there to read about all upcoming movies of significance, and mostly because movies like this never get released there anytime within reason of their release in the New World.  It just stuns me that I have so quickly gotten out of touch.  Nevertheless, only one week late did I have the privilege of viewing one of the rarest things in modern existence–a gimmick free and not CGI abused thriller/thinker/sci-fi movie.  DISTRICT 9 is a top ten movie of the decade.
It was nice, actually, to finally know so little about a movie going in to watching.  I knew the basic premise as told in the trailers, that an alien ship hovered over Johannesburg while the aliens lived in a slum underneath being forbidden to return to their home world by the government.  Other than that basic pitch line, I would never have foreseen the protagonist of the movie being who it turned out to be.  A very brave and bold choice by the screenwriters.
This movie is gritty, and gritty done absolutely right.  The grit is eased over by an excellent score that enhanced many scenes.
And what a turning point DISTRICT 9 has!   The writers allow the viewer to develop one view of the aliens, only to have it change 180 degrees with gentle and touching development.  By the end I had developed significant emotional investment in one alien child.  I was using a lot of my own will to will on the action in the climax.
WETA and the special effects crew did an outstanding job.  CGI was used sparingly, and realistically.  The alien weaponry really seemed alien and what it takes to wield that weaponry is a touch in DISTRICT 9 that really separates it from other, lesser films in its genre.
The universe created by the movie is fascinating, though specifics are rare and insights only offered in single sentences of exposition carefully rationed into the dialogue.  All I can say about the ending is I really would like to see a sequel!
DISTRICT 9 is just simply a great movie, and easily the best of 2009 so far.