LOST 6×10 "The Package"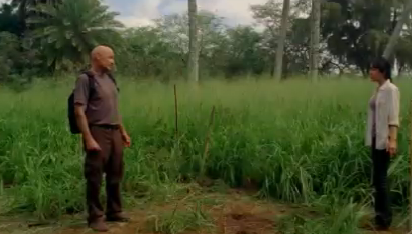 A regular episode of 6th season LOST, which is ok, but once again, lots of just running back and forth between islands.  The flash-sideways story was satisfying, but what is its purpose?  More after the break . . .
***SPOILERS***
I liked this episode, I even maybe for awhile thought it was very good.  I guess now, as much as I want to savor every last minute of LOST left to us, I equally want to see the story just play out to its end.  I don't want to wait for answers anymore, just break the dam and give it to us all!
What I really need is some hint that the flash-sideways stories have some relevance and are not just filler or some nice way to show an alternative life for the characters.  To a degree, I have faith that the writers will tie the flash-sideways storylines in very cleverly, but then to another degree, I don't.  Are they just filler after all?  I really have a hard time imagining how they are relevant.
WHAT I LIKED:
Let's just get this out of the way now, umm, Sun asking Jin which buttons should stay unbuttoned and the bust-eye-view of this happening
Desmond showing up at the end, though I feel the Official podcast spoiled that for me
Sun's tirade in Korean on the beach with contorted face, totally hot
Widmore finally coming face-to-face with MIB
Widmore asking, "Do you know who I am?"  Expecting even some creature on an island to know who the powerful Widmore is! ha
Jack and Sun's "conversation" on the beach at the end
WHAT I DID NOT LIKE:
Jack and crew just waiting around on the beach for the return of Richard, Jack is a man of action, how can he just wait now?
Jin not putting up any fight when Keemi and that dude arrived
Yeah, why is a physicist leading guerilla ops??
Claire still wanting to kill Kate, so what was all that crying asking for forgiveness just like 2 eps ago??
Richard still scurrying around all wide eyed like a frightened chicken
Not a single dude from Hurley
Sawyer just hanging around pretending to not look concerned, go kick some ass James!
Dude, can't MIB just like tip over those sonic things?  Seems like he can stand in between the legs of them, so just pick up the leg that is outside the sonic wall and flip it, boom, neutralized.  Let the rampage begin.  No?
So was it only Jacob stopping MIB from hopping on Desmond's sailboat and sailing back to the good life in our world?  Seems like MIB is full of chances to leave now.  What did Jacob do to keep him in check, did he actually have some power over him?  The island itself not enough of a cork to keep him there?
I guess it all just comes down to, why are we getting these flash-sideways?  How significant are they and how will they all be tied in to the current actions on the islands in just 8 more hours of the show?
What does the MIB want to get off the island to do?  Looks like plenty of fun to be had right on the island.  What does he want to leave and do?  Drink every flavor of Gatorade like I did when I came back?  Eat a real piece of cake?  How powerful can he be among regular people if he is dependent on the same technology (airplanes) to get back as they are?
Who are the three people MIB still needs to recruit?  Jack, Hurley and Sun?  He needs Kate to get Jack?
What kind of war can a regular man and a smoke monster really wage?  Widmore is safe in his sonic fence area, MIB already survived one dagger attack.
I guess I am just getting really impatient for answers and the show to run its course, though I'll be very sad when it does.  All of a sudden LOST and 24 will be gone just like that.  Two staples of TV watching for most of the 00s, and the last two movie like quality serial genre programs that produce 20+ eps a season, that we may ever see, at least for the foreseeable future.  None has come since LOST in 2004, so I cannot see it happening in today's television climate at all.
I will vote 3.5 stars if I could, so maybe I'll just go 3 stars this time.