LOST 6×13 "The Last Recruit"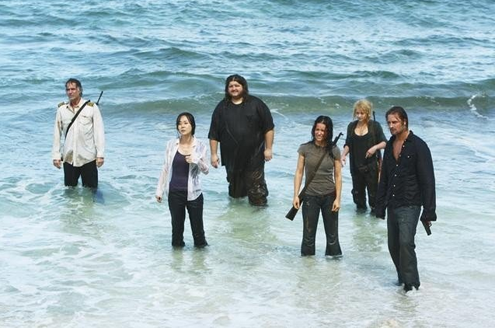 LOST may have just finally saved its final season.  What I had been patiently waiting for many episodes to happen, finally happened, i.e., pieces are moving into place with clear-ish end games.  More after the break . . .
***SPOILERS***
I don't think I can say FINALLY enough.  This is the kind of episode I had been expecting for like the past five episodes.  No more just sitting around on the beach or in the jungle waiting for something to happen.  People make decisions, act on them, and we are given something to root for.  Was very relieved to hear Sawyer's (not ever going to call him James) plan and was like, "yes! now I can root for them to make it to the sub, go, go, go!"  Of course that was short lived since they were immediately doublecrossed by Widmore before they could doublecross him.  Of course they could still make their way to the sub eventually.
Oh, and finally when the episode ended and I said damn it, I meant it to mean I cannot wait to see next week's episode.
WHAT I LIKED:
LOVED Jack jumping off the sailboat, you HAVE to go with your gut, respect
Hurley ceding leadership back to Jack
basically Jack in general and over all in this ep
Sawyer having a plan, finally
Widmore showing the big weapons
Finally Jack knows Claire is his sister
Finally Jin and Sun are reunited
Sawyer using the garden hose to trip up Sayid
Kate totally owning Sawyer by saying she'd tell the feds about his trip to Oz
"Sayid's a zombie and Claire's crazy" somebody had to finally say it
WHAT I DID NOT LIKE:
Sailboat?  Where did that come from?  Or is that Desmond's old one?
Jack & Locke private talk is in complete darkness, they return to the beach in broad daylight!

Not showing what happened between Sayid and Desmond in the well

Sun "finding her voice" just a gimmick
Not a very emotional reunion between Sun & Jin actually
I am really curious to see what MIB/Flocke and Jack do next together.  I would think it is safe to assume that all others on the beach in MIB/Flocke's group are now dead, save maybe for Sayid.  Will Jack flat out say that you wanting to leave with us makes me think I should definitely not leave then?
Now I am excited to see what happens next.  Mostly about the above mentioned Jack & MIB/Flocke pairing, but also when Desmond shows up on the island, not to mention when Richard & Miles come out of nowhere as well.
UPDATE:  There will be no episode of LOST next week, a HUGE FAIL after building momentum finally this week, that will all be killed by a 2-week wait.  I will never watch another ABC show in my life in protest.