HANG 'EM HIGH [1968] movie review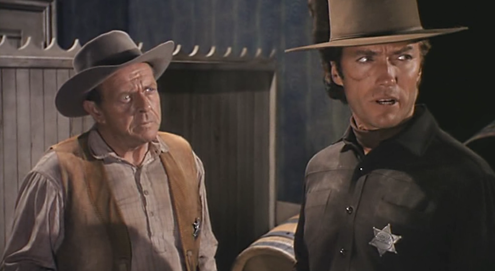 HANG 'EM HIGH is a below average western starring Clint Eastwood.  All the ingredients were there for this to be a very solid movie, so it would seem then fault lies with director Ted Post for not making more of the group of actors he had to work with on a standard revenge story, but one with more moral ponderings than usual.
It seems a good many westerns are based on a revenge story.  Fade to an opening scene showing one of innocence, like a man (Eastwood) helping a young calf cross a stream, quickly introduce a band of thugs, perform a violent act against that man, but not a fatal one, then man proceeds for the rest of the movie to exact revenge upon that group of men.
That is the case with HANG 'EM HIGH certainly, although the story explores the concepts and morals of old west justice in far greater detail than other westerns I've seen.  The Oklahoma Territory where Eastwood's character was nearly hanged is actually run by a hanging judge with a firm view of justice.  Eastwood comes to work for this judge eventually coming at odds with the judge's too black & white methods of meting out sentencing, which inevitably was hanging.
The movie really seems like several distinct parts, with Eastwood doing his typical squint-eyed man out on the trail for revenge, then a not so old west town courtroom saga, followed by a romance.  Eastwood catches the attention of a woman who inspects every prisoner that comes into the territory's foul smelling prison.
The abrupt score of the movie does not help with its repeated use of a bombastic jingle every time a closeup of a character looking serious is shown.  Still, for Eastwood fans like myself it is a passable western that shows the beginnings of a semi-working system for law and order in the previously wild west.