COWBOYS & ALIENS [2011] movie review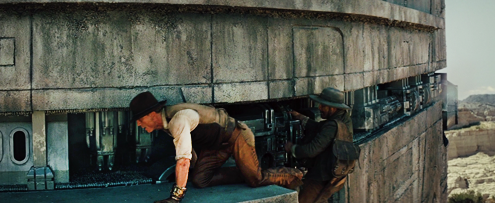 When I first heard of COWBOYS & ALIENS [2011] I loved the concept.  The classic western is my favorite genre, though my favorite movie series is STAR WARS.  So this sounded like a combination for a movie I would be sure to love.  Then when the reviews came out it greatly tempered my feelings toward it.  I did not even see the movie in the theater.  Unfortunately, the reviews were right.  This COWBOYS & ALIENS will not satisfy fans of either the western or sci-fi genre.
I think it will be hard to not write about only the negative things about C&A.  Hell, I did not even know the correct title until I just checked the movie's IMDB page.  I thought it was Cowboys VERSUS Aliens.
The mistake the movie makes is putting Daniel Craig in the lead role and saddling him with a horrible American accent.  Either just let him speak in his own voice or hire one of I am sure a hundred great American actors that could play a badass cowboy.  As it was, Craig's performance was wooden, one note and virtually every word of dialogue he delivered was awkward and emotionless.  His whole performance was that way.
Harrison Ford chewed up scenery as the local rancher bigshot.  Olivia Wilde again was horribly miscast as some solitary super beautiful woman that I guess just hangs out in some dead end western town.  Having seen dozens of westerns, such a character was totally out of place.  You might as well of painted her blue and she would have stood out less.
So with horrible casting, very poor dialogue, characters you do not really care about, is there at least a great story and/or a great premise for what sounds like an epic idea . .  cowboys battling aliens?  Again, unfortunately, no.  The story is dead simple, not fleshed out at all, and has about enough material for a single hour long TV episode, never mind a 2 hour 15 minute feature film.
Craig shows up in the desert with some alien bracelet on his wrist.  The early scenes in the western town were the best of the movie, though it was all pretty cliche, with the punk son of the rich rancher terrorizing the town with everyone to afraid to stand up to him.  Each other townsperson then got their character established.  Then the aliens attack.  They come and shoot stuff up and snatch people right off the ground and onto their ships.  The rest of the movie is tracking them down to recover their people.
The middle third is crazy boring with the characters just riding horses, sitting in the dark, talking, basically just filling time until the director gets them to the movie's climax.
What do the aliens want with the people?  Just the usual cliche, which does not really even make sense in the story.  The aliens really are after gold.  Why?  Who knows.  We are never told.  Is it for fuel?  Do they use it for currency too?  All that is said is that gold is as rare to them as it is to us.  Uhhh…?
About the only thing I liked is how the cowboys referred to the aliens only as demons.  I think the concept of beings from space as being aliens did not exist then, and that in their world view of the time, demon was the other to them.
I really wish the movie played more like a classic western than a modern summer popcorn flick.  The concept is so great.  Play up the western motif, not until the end credits was there really any western kind of soundtrack played.  Add some kind of Sergio Leone or other great western music contrasted with the high tech of the aliens.
Plus, why do aliens all have to be some disgusting and insect-like?  Why cannot they be elegant enemies?  It just seems strange for beings that communicate by roaring and bite faces off of things to also be the craftsman behind such delicate technologies.
I would like to see Eastwood and Spielberg team up to direct a movie with the same cowboys being attacked by aliens motif utilizing each other's expertise in each genre.