TINKER TAILOR SOLDIER SPY [2011] movie review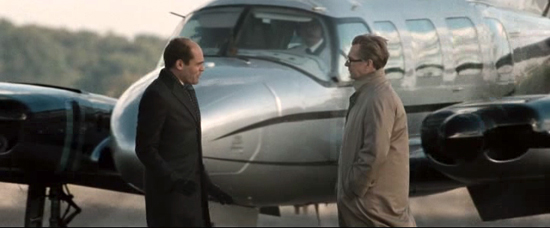 TINKER TAILOR SOLDIER SPY [2011] is a proper adult's movie.  The frames of the film seem to move very slowly because the story behind them is so dense.  You have to think and concentrate very carefully to keep up with TINKER, and I really like having to do that while watching a movie.  My expectations for TINKER were actually muted because listening to a so called culture podcast I heard some critics say they could not understand it and that it was possibly meant not to be understood.  They should be fired.  Although I could not repeat all the plot developments to you verbatim nor name the characters exactly, the whole picture resides in my mind in clarity, but slightly out of focus.  This is one of the ten best movies of 2011.
British intelligence, referred to in the movie as the "Circus," has a significant setback during an operation in Hungary, so house cleaning is in order.  Yet the reason for the mistakes may not necessarily be due to the incompetence of all those in charge, but rather a mole.
The entire story of the movie is directly and indirectly moved by the super secret investigation into if there is a mole, and if so, who is it?  It is a credit to the strength of the overall story that no plot twist seems particularly big, but rather there are a serious of revelations that drive the story interestingly forward at a good pace.
If you like to observe, then TINKER will be very entertaining.  There are jumpcuts to the past with no introduction, the viewer has to keep up.  Scenes are never longer than they need to be before it is on to the next, so again, the viewer has to keep up.
TINKER also reminds the viewer of the rare pleasure of watching an analog thriller.  I am convinced cell phones are playing a major part in ruining society.  In TINKER, spies need to physically go and get pieces of paper from a filing cabinet!  It almost seems like they are Indian Jones retrieving some ancient artifacts from a temple.  In the heat of the moment, spies are not getting real time information via some ear piece, they have to make their own judgement calls.  We get to see their character.
TINKER is highly recommended viewing for when one is in the mood for a movie that makes you think.