WAR HORSE [2011] movie review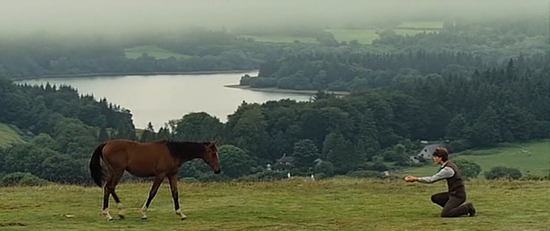 If you do not think a person can believe in something so strongly that no matter how astronomically improbably it is, it can still happen, then you need not see WAR HORSE.  If you are, however, a person who does, as I am, then you will find WAR HORSE inspiring and raising your own confidence that what you are trying to believe in can be done.
Movies featuring the lives of animals are very emotional for me, and WAR HORSE was no exception.  There is a unique bond that can exist only between a boy and an animal.  WAR HORSE shows the power a relationship with a special animal can have, on surprisingly, not just the boy you see in the trailers, but on everyone the horse comes in contact with.  For WAR HORSE is not at all what I expected, the boy and his horse, who he names Joey, part early on, with his belief in finding him again the driving force of the story.
What I liked best about WAR HORSE is that no matter how harsh the company of men Joey found himself in, there was always at least one man among them who loved animals.  The German solider who says "go to hell" rather than be parted with the horse stood out most to me.
Joey also had a relationship with another war horse, Topthorn.  Their friendship and the loyalty they showed each other again is not for those who cannot accept two horses being capable of outwardly displaying such emotions.  Perhaps the most inspiring scene of the whole movie was when Joey accepted a burden Topthorn was called upon to take, but physically could not.
Director Steven Spielberg personifies the horse Joey with such an incredible spirit, that it is impossible not to root for him, and indeed much of the movie I was sitting up leaning forward helping to drive Joey on as I could.
WAR HORSE was almost entirely not what I thought it would be.  Joey is by far the main character of the film.  The war is the background.  The humans are the supporting actors.  The fate of Joey is the movie.
WAR HORSE is one of the ten best movies of 2011.