50/50 [2011] movie review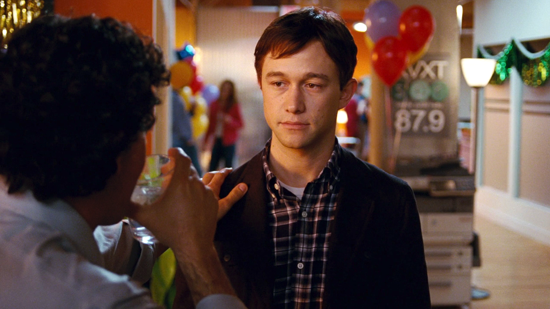 I only learned afterwards that 50/50 [2011] is based on a true story, and that Seth Rogen who played a character helping his best friend deal with his surprising cancer diagnosis, actually was the real life friend of the person who wrote the book the movie is based on.
I first really became aware of Joseph Gordon-Levitt from his lead role in the outstanding movie BRICK, and instantly became a fan (he was also the long haired kid in the TV show 3rd Rock from the Sun).  He pairs well with Seth Rogen playing best friends and talk to each other in a very realistic way.  In case you did not know it, guys, especially younger unmarried guys talk to each other using lots of profanity in a way that would sound really harsh to outsiders.  Thus, to be as authentic in dialogue as 50/50 is, it needed to be Rated R.  The movie does not go overboard on the use of strong language though to where it becomes gratuitous.
Gordon-Levitt has a seemingly ok life for a young dude, with a hot girlfriend, a good job at a radio station and a pretty nice house.  Things quickly erode though as he gets diagnosed with a rare kind of spinal cancer, and things with the hot girlfriend get bad.  Rogen sticks around as a very loyal friend providing a constant to the film as Gordon-Levitt movies on to chemo (which is not what I thought at all, had no idea it was given via IV) and therapy.  However, his therapist does not wear an "earth tone sweater" and is not 65 years old.  She is a young and attractive and still learning on the job Anna Kendrick.  To me this was obvious where it was going to go as soon as I saw her.
50/50 the title comes from Gordon-Levitt's chances of survival, and as a movie that is roughly 50% comedy 50% drama it does a great job mixing and transitioning between them.