CHARADE [1963] movie review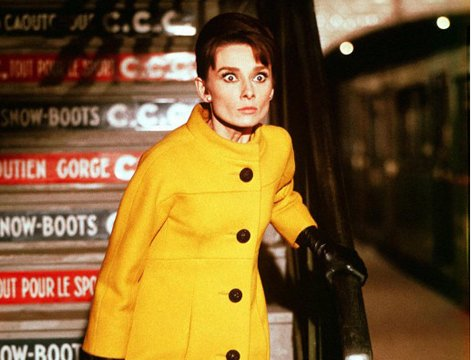 Seeing a comment on IMDB calling CHARADE the best romantic-comedy-thriller movie ever, I would have to agree. CHARADE is incredibly unique as it seems the two protagonists, Audrey Hepburn and Cary Grant, seem to not realize in the middle of the romantic comedy they are in is a very deadly thriller of a movie that will make you laugh right before you fear for darling Audrey's life!
Audrey is her usual charming self rapidly spitting out witty dialogue to all she encounters in an excellent script by Peter Stone that seamlessly puts a romantic comedy in a thriller setting. In one thought CHARADE is a Hitchcockian suspense film, and in another thought a light-hearted 60s era comedy set in, of course, Paris. The balance between these two genres is well done, not to mention the plot twists keep coming until the very, very end.
Fortunately the script does make mention of the absurd age difference between Grant and Audrey as they each make fun of each other for either being a child or an old man. Still, there were 34 years between them at the time!
There is no line of dialogue wasted, as even a throwaway line by two men in an elevator about how an agent getting bluffed in poker makes one of the men fear how much can the man be then bluffed by the Russians is funny and thought provoking. They could have just commented on the weather, but since they did not it makes CHARADE stand out.
Audrey is married to someone she does not love and is planning on divorcing, only to return from a ski trip to find her apartment totally empty and news that her husband was murdered. There is a matter of $250,000 of government money missing that is of special interest to three of his old war buddies. All of them would kill to get it and they believe Audrey has it. Grant is a wild card always part of a charade, but which one?
I realized at points early and throughout CHARADE that I did see it before, when I do not know as I cannot imagine myself watching a movie like this until I started writing movie reviews in 2005, but for sure I did. Fortunately, I did not remember all the big plot twists at the end so I was in suspense and then ultimately surprise.
The tension in the final act of the movie is very strong and I was urging Audrey on through stamp collectors' booths, through a subway, into a theater.
CHARADE is truly a movie that could not be made today and is a gem from its own time.
RELATED POSTS: