MUD [2013] movie review – recommended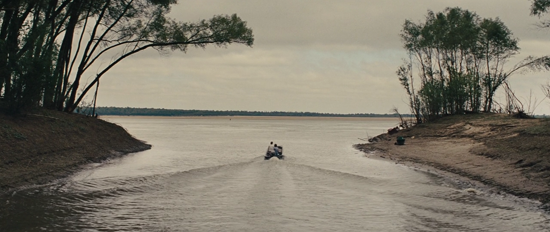 I am sure MUD [2013] will be on my top ten list of 2013 movies. I had not even heard of the movie before today, but I am sure I will be thinking about it for days. This is a thoughtful and observant drama about two young Arkansas boys who find a boat high up in a tree on a small island, and also a mysterious stranger who asks them for help.
Writer & director Jeff Nichols is two for two in my book with MUD his latest effort and the 2011 film TAKE SHELTER. He has a well established style of making a contemplative movie experience. MUD is told I believe entirely from the perspective of two 14-year old boys, Ellis and his best friend Neckbone. I think Nichols did what Spielberg did in E.T., kept the camera at the eye level of the boys so we see the world from their view, with adults being taller, etc.
Neckbone heard from a friend about a boat that got caught up high in a tree after a flood on a small island in the middle of a large river. The boys find it and want to make it their own, only they find a man already has. Matthew McConaughey tells the boys they can call him Mud. As another character later says, the boys think Mud is a badass, but who is he really? If anything, he is honest always giving the boys direct answers when they ask why he has a gun, why the police are looking for him, and why is he waiting on this small island.
It is easy to see why the boys would go on errands for Mud on the mainland helping him repair the tree-stuck boat. Neither boy has a good home situation. I really felt great seeing these boys still have an analog adventure filled childhood in these times. They spend their days outside exploring, and once given tasks by Mud, there is no end to their enthusiasm for this secret, child wonder-like summer.
Yet amidst all this you get the feeling this is not going to end well. Mud has loved a girl, Juniper, since she saved him from a snake bite when he was just a kid. Theirs is a tragic relationship, but the story of their love is the real reason Ellis is so willing to help Mud. Ellis really wants to believe in love. It is a very touching character arc watching Ellis grow up and learn lessons from his parents, from Mud, and from his own firsthand experience with getting a girlfriend.
MUD develops very slowly growing deeper and deeper into the characters, a fine storytelling method. The ending was satisfying, though I thought pulled a punch slightly, but still, for the tone of the movie, the ending allows for hope for the future. MUD is highly recommended.