THE WIND RISES [2013] movie review – recommended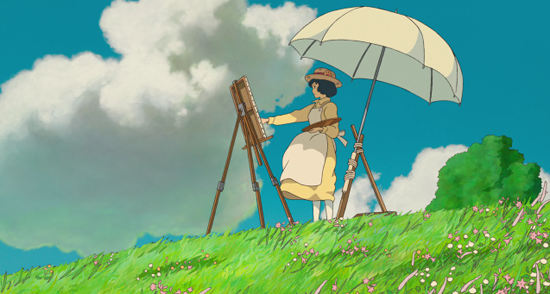 I was waiting for the right day to watch the final Hayao Miyazaki movie, THE WIND RISES [2013], as his movies have imprinted in my mind like few other moviemakers have. This being the summer solstice, and having been deep in the woods & Nature earlier today, capping it in the world of Miyazaki for one last time seemed fitting.
Miyazaki makes movies for dreamers and the pure of heart. For those people, his movies are the safest of refuges where one can connect without fear of exposure to malice. There are very often no villains of any kind, and such is true for WIND. The conflict in the story comes from just trying to live in a world where planes are things of dreams, but can become nightmares. The movie opens with a young boy, Jiro, dreaming of flying a small airplane right of the roof of his house. The movie follows him as he grows up to become an aeronautical engineer in the time between WWI and WWII. He fatefully meets, and helps a younger girl just when he arrives in Tokyo to start his studies. Consumed by his studies, and then his work for an airplane design company, we never see him dreaming of her.
He dreams of an Italian airplane designer, Caproni, who inspires him to follow in his footsteps and warns him that airplanes may be made of dreams, but the world will turn them into nightmares. In such a light, how can they follow their dreams in the work they do? Miyazaki is a master at letting the audience come to their own conclusions of such things, while he just continues to fill the screen with lavish countryside vistas, small slices of Japanese life, and the fantastic in general.
Even though Jiro is thought of as a genius, the first plane he is given lead design on, crashes and is a failure. This takes him to a fateful visit to a hotel by a magic mountain, as one guest calls it. He does not even recognize that the girl up on the hill is the same girl he met on a train and helped long ago. The viewer remembers of course, and finally she has to refresh his memory, but we learn he has not stopped thinking about her after all.
The final act of the movie is rather tragic, in a beautiful Miyazaki way. It is a fitting end to WIND and to the filmography of Miyazaki.