FULL RIDE STATS:
Distance: 9.54 miles

Time in motion: 34minutes 55 seconds

Average speed: 16.7 mph

Max speed: 22.0 mph
I have ridden my Trek 7.3FX around downtown St. Petersburg quite a few times already, but since adopting Kiki (who?) a few months ago my cycling has been put on hold.  I was greatly inspired once again by watching the Tour de France.  Now, I have discovered a new 3-lap area of sorts similar in length to the laps I rode many, many times around the imperial palace.  Quick thoughts about riding in Florida?  of course it's hot, nice to have dedicated bike lanes, basically all roads are totally flat, at least one road cyclist is not elitist and friendly.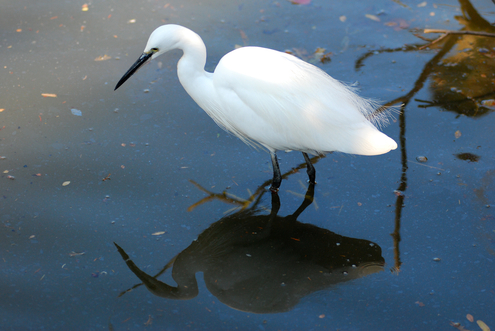 RIDE STATS:
Distance: 12.38 miles

Time in Motion: 56 minutes 58 seconds

Average speed:  13.1 mph

Max Speed:  30.4 mph
This afternoon I rode my
Trek 7.3 FX
out to
Ueno
for the first time.  I met
the Can
out there to do some bird
photography
.  It was a brilliantly sunny fall afternoon in Tokyo, so the cycling was crisp but very pleasant.  I wore my winter Pearl Izum full-length cycling pants again and was only slightly warm on the ride out.  Even though I had never ridden to Ueno, I only made one slight wrong turn that was quickly remedied by backtracking.  It took only about 30 minutes to ride from Shinjuku to Ueno station.  There were plenty of ducks and seagulls in and around
Shinobazu Pond
, but few others of much excitement unfortunately.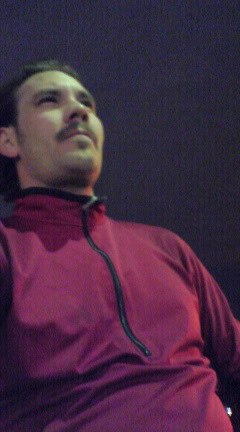 FULL RIDE STATS:
Distance: 15.87 miles

Time in motion: 1 hour 03 minutes 54 seconds

Average speed: 14.9 mph

Max speed: 26.4 mph
3-LAPS STATS:
Distance: 9.40 miles

Time in motion: 33 minutes 58 seconds

Average speed: 16.6 mph
I am actually writing this cycling report like 10 days later.  That's how turned off I was by this ride.  I couldn't even get myself to write about it until now.  It was my first cold weather ride of the year, thus the first time I donned my winter Pearl Izumi cycling pants and full finger winter gloves.  The pants may not have been necessary, but I never actually felt that overly warm.  The gloves were definitely needed.
 
About this ride . . . well, right off the bat once I got to the palace I got totally boned at one of the first lights on the huge decent, which should be the fasted section of the loop.  I had never have to come to almost a complete stop there before.  Usually I just whiz by at 28mph.  This time I was stuck tip-toeing between traffic stopped at the red light.
 
And then it was just a total parade of red lights.  Plus some street lights on the Tokyo Station side weren't working so it was quite dark.  Then some fool tried to challenge me on the ascent section.  I thought it was a real cyclist on a road bike, so I yielded a bit as I felt they were just shadowing me and I didn't like it.  Turns out it was just some fool (j-dude) on a not mama-cheri but some slightly better city bike trying to be a hero.  It just annoyed me and I quickly passed him and dropped him.
 
[Read more]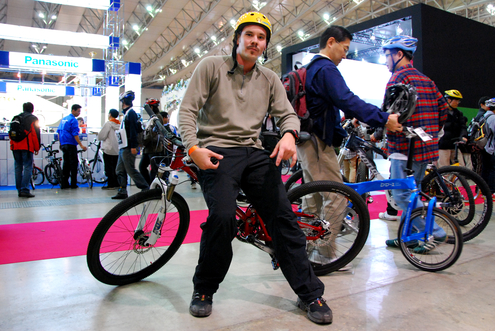 Thanks to a tip from a student semi-interested in cycling, Aya and I were able to spend a very exciting Saturday afternoon surrounded by all things bikes at CYCLE MODE international 2008 at the expansive Makuhari Messe exhibit space.  This even was better than I expected, and I ended up feeling totally stoked after having demo-ridden three very expensive bikes on the road and mountain biking mini-tracks the event organizers had setup.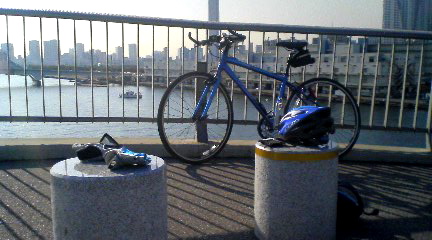 FULL RIDE STATS:
Distance:  14.17 miles

Time in motion:  59 minutes 59 seconds

Average speed:  14.2 mph

Max speed:  28.4 mph
I hadn't gone on a ride where I did not really know where I was going in a long time (not since July 31st!).  It also felt good to ride in brilliant sunshine in early afternoon while most other people were working.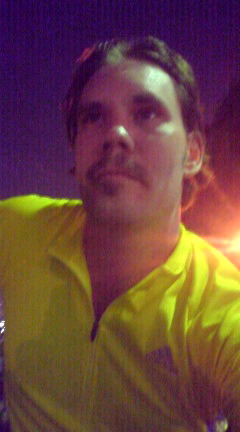 FULL RIDE STATS:
Distance:  15.83 miles

Time in motion: 59 minutes 42 seconds

Average speed: 15.9 mph

Max speed: 31.2 mph
3-LAPS STATS:
Distance: 9.38 miles

Time in motion: 30 minutes 44 seconds

Average speed: 18.3 mph
Tonight I wasn't going to settle for the usual slow riding around the I
mperial Palace
that was starting to become my usual M.O.  Every time I thought about easing up on the pedals at the places I had been easing up at on the past few rides, I told myself, "hell no fool, keep cranking!"  In that way I was able to improve my average lap speeds by almost a full mph and shaved nearly 2 minutes off the total 3-laps time.
It helped to be curry-free for a change, and to have gotten a decent night's sleep before.  Tuesday night rides are usually sleep deprived ones, as well as belly full of curry ones.  These two changes helped a lot I think.  Plus maybe I am starting to finally get back into cycling shape, at least a little bit.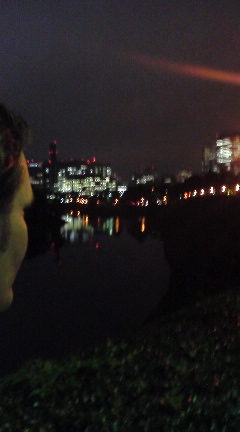 FULL RIDE STATS:
Distance: 15.85 miles

Time in motion: 1 hour 00 minutes 51 seconds

Average speed: 15.6 mph

Max speed: 26.9 mph
3-LAPS STATS:
Distance: 9.40 miles

Time in motion: 32 minutes 22 seconds

Average speed: 17.4 mph
Tonight was a totally different feeling ride around the
Imperial Palace
.  For one, I never looked at my cycling computer while doing the laps.  This is a radical change.  I am normally obsessively looking at my time and current speed, calculating how I'm doing on each lap in my mind.  
Tonight I was free.
I decided right away, on the fly, to not look at my cycling computer.  The cool October air helped free my mind as well.  All I did was keep my eyes fixed on the road in front of me and my mind thought of only one thing—keep the cranks in motion.  I've never had such a single-mindedness like that cycling around the palace.  It felt great.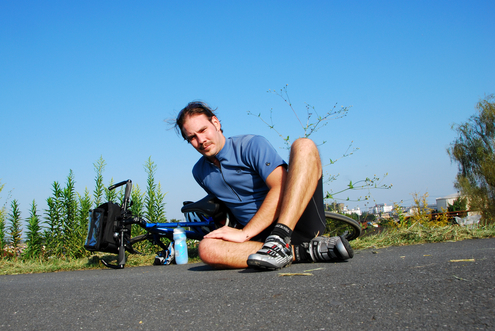 FULL RIDE STATS: (incomplete due to cyclo-computer battery dying!!) 
DISTANCE:  48.66 miles

TIME IN MOTION:  3 hours 30 minutes 13 seconds

AVERAGE SPEED:  13.8 mph

MAX SPEED:  31.4 mph
RIDING UP THE ARAKAWA:  

(official)
DISTANCE:  21.11 miles

TIME IN MOTION:  1 hour 21 minutes 58 seconds

AVERAGE SPEED: 15.4 mph

(seems low as I was flying)
RIDING DOWN THE ARAKAWA:  

(official)
DISTANCE:  18.80 miles
TIME IN MOTION:  1 hour 27 minutes 59 seconds
AVERAGE SPEED: 12.8 mph
This was an ill-fated ride on the
Arakawa River
.  I left too late since I got up too late since I went to bed too late.  Right now I my quads are still burning.  I probably won't be able to walk tomorrow.  Why?  I don't know.  Out of cycling shape I guess, pushed it way too hard at the beginning of the ride I guess, and for sure the stiff as a stiff headwind, both ways, didn't help.  Riding up I didn't feel like I was with the wind, but I was able to cruise at 20 mph the first 15 minutes.  I toned it down to 18 to 19 mph for the next 15 minutes, and then after that I made a wrong turn or two and lost a little spirit and thus a little pace.
I told myself I'd only ride up the river for 1 hour.  But the wrong turns ate up a good 15 minutes, and I wanted to try and make it to this very nice small bridge over a crick.  So I pushed on even though I shouldn't have, but I thought, if I cut out the 15 minutes of errors and cruise with the wind, I can make-up the extra 20 minutes I rode past my preset 1-hour mark.  I of course was totally wrong.

At least I made it to some cows and took my midpoint break with them (see below photos).  I've seen these cows before
on another ride
with the Mikes.  I had always thought that a cow only had utters, and that it was impossible for a cow to have both utters
and
 horns.  Either these are some freaky hermaphrodite cows, or it's natural.  They must still be female though right?  Hmm, they did pee standing up though!
So after the cows I started back and right off the bat my quads didn't have it.  But, I was 30 miles from home still!  And then I hit the headwind full on.  This was a shock as I was expecting a tailwind.  How can you ride against the wind both ways?  I don't think it could be a crosswind because on the way back I was most def going directly head-on into it.
I was fading and fast, doing maybe 12 mph a lot of the time, barely keeping the pedals going in gear 3-4.  I had to dig deep to make it.  Somehow I got back to Road 318 and off the Arakawa, where I promptly plopped down and elevated my feet way above my heart to drain all the lactic acid out of my feet and lower legs.  That helped actually.
For as I made my way down Road 318, then checked that off as I turned left onto Route 17, I felt a second wind.  No way was I going to be broken!  F that.  I became heartened, and as I turned right onto Meiji Dori, I became my usual aggressive riding self.  Others who have ridden with me know how I can find a second wind when I can smell the finish line.  This was a textbook example of that tendency of mine. 
As Ikebukuro station came up, I was going full out and made all the lights and passed through the Ikebukuro station area like a bat out of hell!  Felt badass.  
I made it back safely.  Now, will I be able to walk tomorrow?  P.S. my headlight battery died too beside my cyclo-computer battery!! Ill-fated indeed.
ARAKAWA CYCLING TO COWS PHOTO GALLERY: