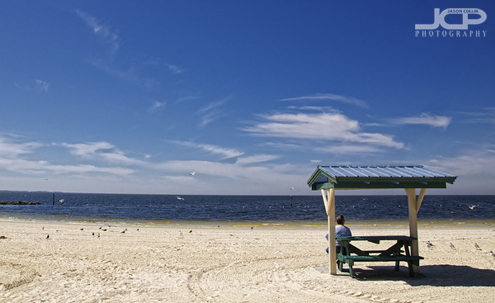 Due to a set of very unusual circumstances, I found myself with 4 hours of sanity today.  It was a preview to how my days will be once I win the lottery this year, except of course in the parking lot will be a Porsche 911 Turbo instead of a Saturn Vue.  I found myself being very grateful for something that should be a given, not an extraordinary exception.  Such are the ill things one is often trapped into when living in the world of Men.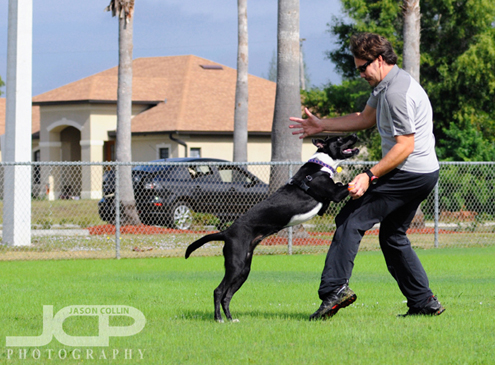 It had been a long time since I was in Cape Coral at my mom's for Thanksgiving, long as in since 2001.  The past few Thanksgivings were spent at the Pink Cow in Tokyo.  Before that I cannot remember.  Despite the time away I did try to revive some of the old customs, like playing football before dinner.  This year it was running around a baseball outfield wrestling with Kiki (above).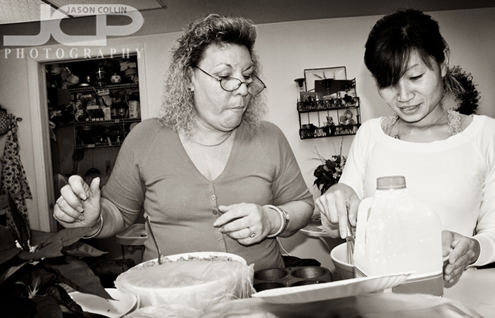 This was Aya's first ever Thanksgiving in the U.S. and as seen above my mom started showing her how to make all the traditional Thanksgiving dishes.  With the pumpkin pies and stuffing already made, all that was left was to make the corn muffins.  Well, that and the tofurky!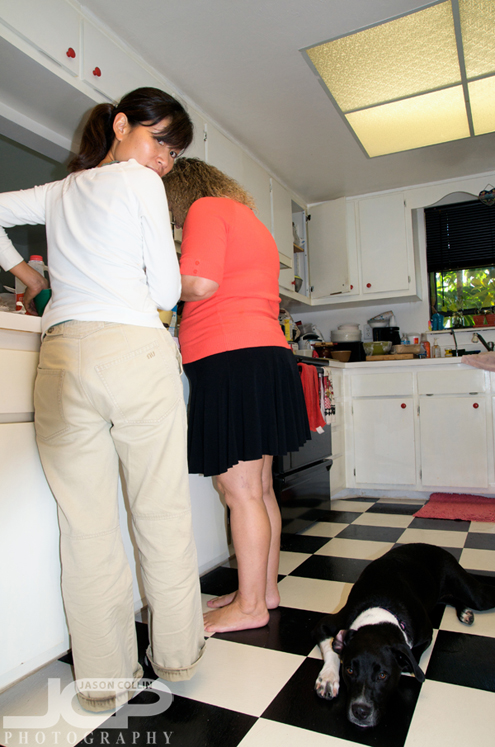 As with all Thanksgiving dinners, the waiting is the hardest part.  Kiki took it particularly hard as it was also her very first Thanksgiving too and she had no idea how long the wait could be.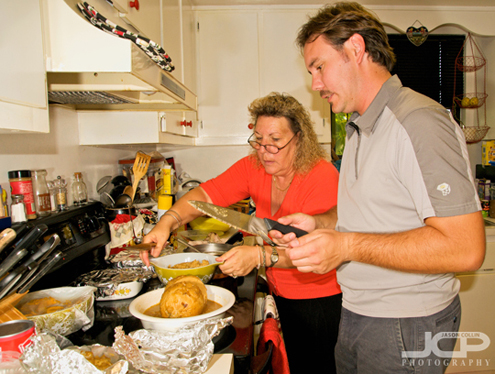 Finally, after 90-minutes in the vacant apartment next door's oven, the tofurky was ready to be carved!  I had long heard of tofurky, but never eaten one and was very stoked, though a little skeptical it would be enough for me as its size did not look that large.  I was dead wrong.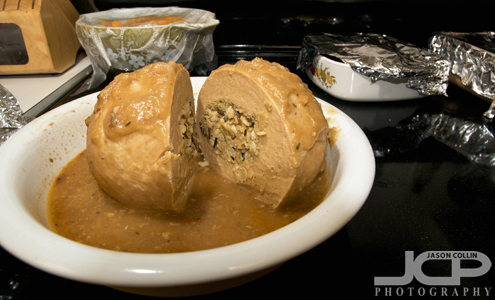 The tofurky provided three full meals of satisfied sustenance for Aya and I.  It was totally delicious too.  Absolutely no reason for millions of turkey birds to be murdered anymore.  It's an outdated ritual that's time has past.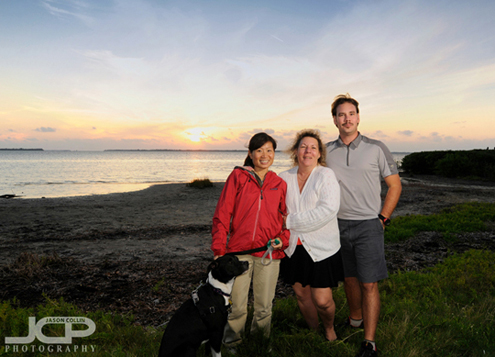 We closed the holiday by driving out to Pine Island and watching the sunset.  I made this family portrait using the self-timer on my Nikon D300.  This Thanksgiving was much smaller than those of my youth where extended family gathered together, but it was still a very pleasant and stomach filling one.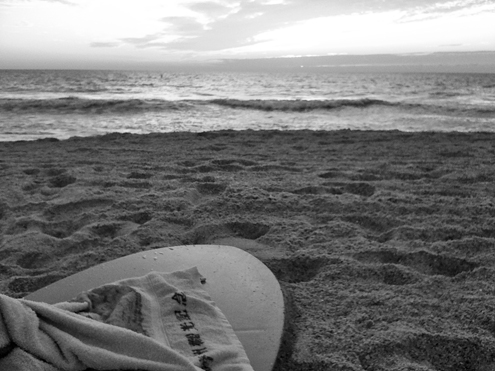 My 22nd season of skimboarding began and ended in 7 days.  True, I have been on my skimboard many times in 2009, but those were not skimboarding sessions.  This may seem unfathomable as one of the main reasons I moved back to Florida was to once again skimboard on my beloved Sunset Beach, the place I love most in the world.  This is testament to the challenges returning to the U.S. after a 9-year sojourn have inflicted upon me.
FULL RIDE STATS:
Distance: 9.54 miles

Time in motion: 34minutes 55 seconds

Average speed: 16.7 mph

Max speed: 22.0 mph
I have ridden my Trek 7.3FX around downtown St. Petersburg quite a few times already, but since adopting Kiki (who?) a few months ago my cycling has been put on hold.  I was greatly inspired once again by watching the Tour de France.  Now, I have discovered a new 3-lap area of sorts similar in length to the laps I rode many, many times around the imperial palace.  Quick thoughts about riding in Florida?  of course it's hot, nice to have dedicated bike lanes, basically all roads are totally flat, at least one road cyclist is not elitist and friendly.
I thought I could show Aya how great U.S. fireworks were as compared to Japan's.  I had boyhood memories of huge extravaganzas of fireworks with the crowds ooohing and aaaahing as we sat on a gentle grassy slope.  I will now have to admit that tonight's barely 20- minute fireworks display paled in scale in comparison to Japan's 1-hour plus hanabi.  Not only that, but we were surrounded by smokers just like in Japan!  Both a mother and a father smoking on their two children, one of which was highly disabled in a complex wheelchair.  Where do I have to live to be free of such extreme ignorance?  Where?!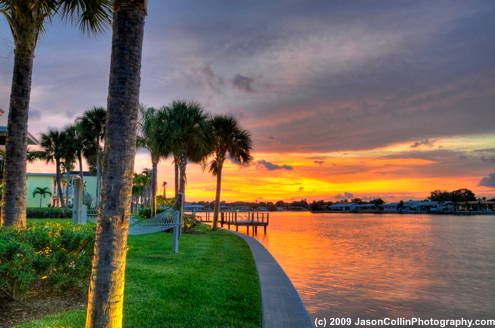 I saw some great sunsets while living in Tokyo, but I always remembered there is nothing quite like a Florida sunset.  I give Aya full credit for me being able to make this image.  She said the sky must be beautiful this late evening, and she was correct.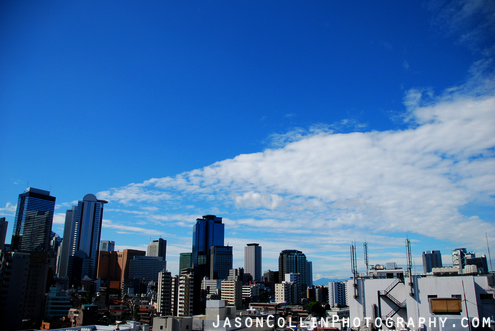 The view you see above is the one I saw every day for the past 4 years.  It was the view from my 11th floor Shinjuku, Tokyo, Japan apartment.  It was a view I paid a lot to have.  To me, it was totally worth it.  It was the last of many places I called home while spending the past 9 years abroad in Asia.  I first lived in Pusan, South Korea.  After 3 years in various cities in that country, and several trips to southeast Asia, I took a 2 month pilgrimage in New Zealand before settling on my final Asian destination:  Japan.  That country was my home for the last 6 years, a period of time so long I came to believe I never actually had any other home and it was perfectly normal for me to be living in a place where I could not read any sign nor talk to any person.  Though I thought it was forever, like all things, it was impermanent and lo, I have returned to Florida and my mind is still processing everything from my decade abroad.