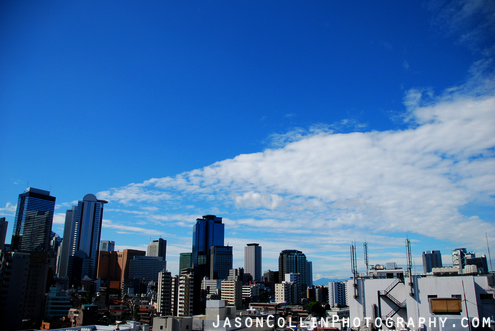 The view you see above is the one I saw every day for the past 4 years.  It was the view from my 11th floor Shinjuku, Tokyo, Japan apartment.  It was a view I paid a lot to have.  To me, it was totally worth it.  It was the last of many places I called home while spending the past 9 years abroad in Asia.  I first lived in Pusan, South Korea.  After 3 years in various cities in that country, and several trips to southeast Asia, I took a 2 month pilgrimage in New Zealand before settling on my final Asian destination:  Japan.  That country was my home for the last 6 years, a period of time so long I came to believe I never actually had any other home and it was perfectly normal for me to be living in a place where I could not read any sign nor talk to any person.  Though I thought it was forever, like all things, it was impermanent and lo, I have returned to Florida and my mind is still processing everything from my decade abroad.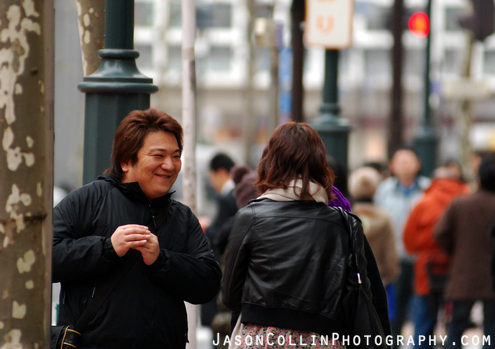 I now have ample time with nothing to do on Tuesday afternoons in the Shibuya area.  Naturally I carry my trusty Nikon D80 (edit:  Nikon D300 from now on!) with me on these occasions.  As I walked around a corner and onto the main street leading toward the Hachiko area of Shibuya Station, from afar I noticed someone gesturing peculiarly to someone else.  I got a bit closer and saw that it was a rather creepy looking punter, but with an innocent air about him, trying to convince a woman of Buddha knows what.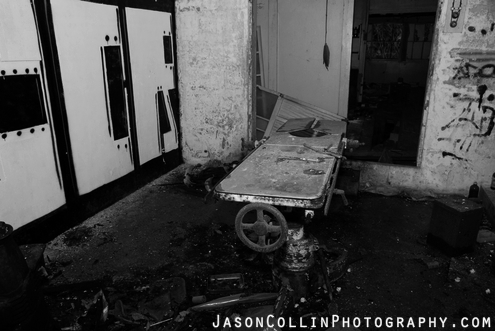 This was a return to a place upon first leaving I thought to myself, "this was a fell place.  I do not wish to return, ever."  Yet one year later I returned to the abandoned mining town in Gunma Prefecture, Japan.  The lure this time was a previously overlooked doctor's clinic that held rumors of such oddities as  a "preserved brain" in a jar and decaying surgical instruments.  All the rumors, it turned out, were true.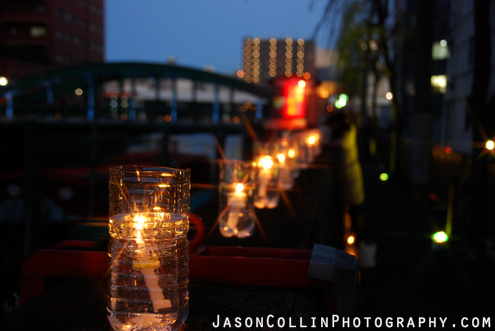 Aya and I happened to be in the Nihonbashi area for a festival, so only by chance did we come across Candle Night at Kandagawa.  This was 700 candles floating in cut off 2-liter plastic bottles all put on display by university students to promote environmental awareness (the irony of using so much plastic is not lost on me).  We passed by while it was still a bit light out and they were setting up.  We were given a flyer and told to be sure and come back after dark.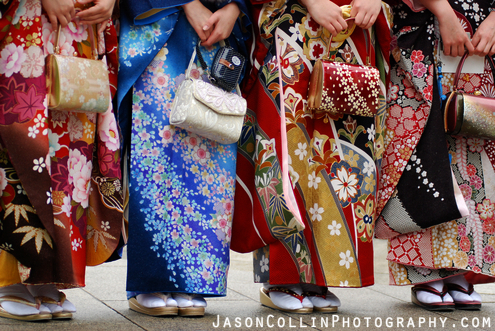 A flickr friend gave me the heads up about the good photography opportunities at Meiji Jingu Shrine on Coming of Age Day, or Seijin in Japanese.  It was also a chance for me to finally meet that flickr friend, Vladimir Zakharov, whose photography I have been a fan of for some time.  I of course assumed there would be a good number of other photographers there, as Meiji Jingu is perhaps the most popular shrine for such events in Tokyo.  I had heard that the girls did not mind posing for the cameras as well.  I had no idea how much they did not mind and how much the photographers were willing to give them orders!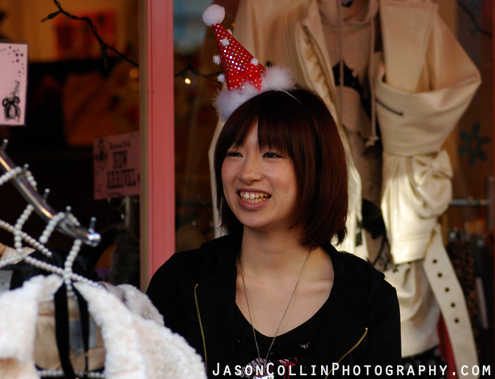 I wanted to try something new for my next FACES OF TOKYO SERIES (Takadanobaba, Kabukicho) instead of another set of photos of people just walking on the streets.  I had the idea to take photos of people shopping inside stores while I was out on the street.  I decided on Shimo-kitazawa as it has almost countless little shops on small side streets, plus the people who frequent this area are usually more hippie/bohemian/hipster.  This proved to be a very challenging thing to do from a technical photography perspective and did not turn out so successfully, but I thought I would still share them to show that one should not always play it safe with one's photography.
Once again the Foote Family opened its doors wide to entertain 30+ people for a post-Christmas, Christmas party.  This was also a white elephant gift exchange party, which proved to be a huge success.  There were about four highly coveted presents that exchanged hands many, many times.  The most popular of these was a Cocoa Latte machine.  It was swapped at least a dozen times.  I ended up with a nice, wooden hand massager turtle.  Aya got a glove hand massager, another win for me!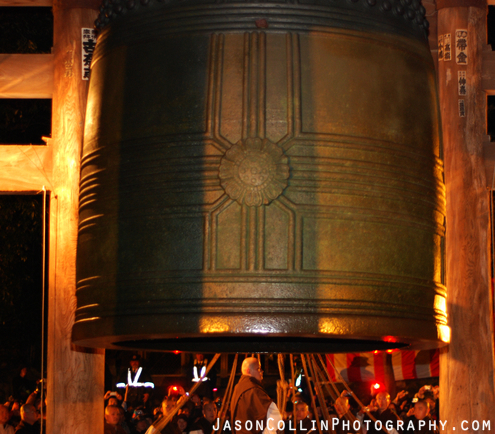 Totally by accident, Aya and I were able to witness one of the most special New Year's Eve traditions in Japan–the ringing in of the new year by 17 monks at Kyoto's Choin-in Temple.  This was one of the most impressive things I've ever seen.  The bell the monks were ringing is the largest in Japan, weighing in at nearly 80 tons and having a diameter of some 2.7 meters.  It's also very old, being cast way back in 1633 C.E.