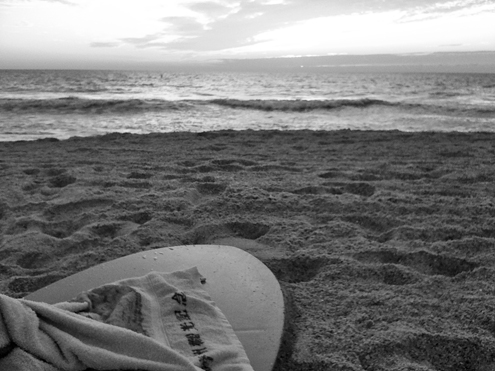 My 22nd season of skimboarding began and ended in 7 days.  True, I have been on my skimboard many times in 2009, but those were not skimboarding sessions.  This may seem unfathomable as one of the main reasons I moved back to Florida was to once again skimboard on my beloved Sunset Beach, the place I love most in the world.  This is testament to the challenges returning to the U.S. after a 9-year sojourn have inflicted upon me.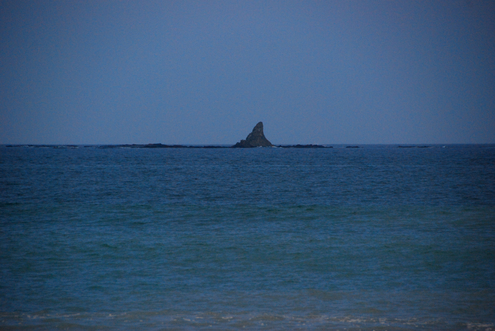 What you see in the above photo is a mysterious rock out in the middle of the Pacific Ocean.  It is the symbol of Chigasaki.  I have no idea how it was formed or what it really is.  Despite skimboarding this place for the past six summers, I never investigated its meaning.  And I do not want to know.  I always imagined it as a great shark's dorsal fin.  The rock is very mysterious, for as you walk further from it, the stone actually appears closer to you.  Such is the scene of my first ever skimboarding in Japan back in June of 2003, and my final session in October 2008.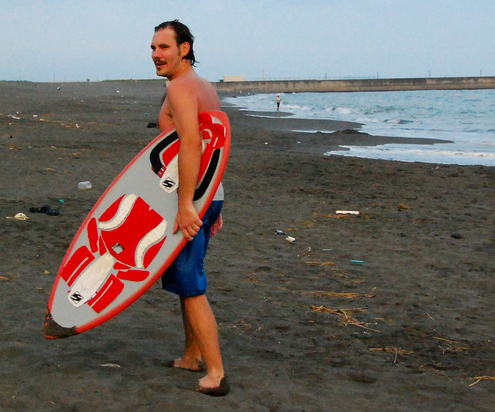 It  had been quite some time since Aya and I went to a Shonan beach for a proper skimboarding session, and I can't really that this session at Hiratsuka was that proper.  It barely ranked enough to get session #07 designation.  There were absolutely no waves at first, and virtually no skimmable surface at all.  Still, a group of 5 young j-skimmers were grinding it out the whole time, but it mostly looked like they just enjoyed falling.  Things got a bit better at the last minute.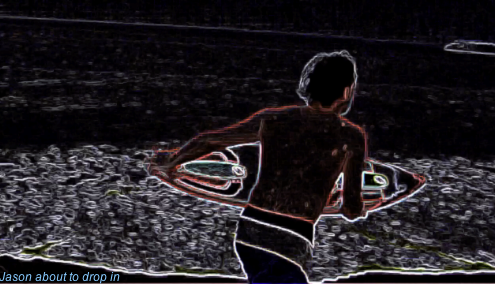 I wanted to return to skimboarding at Chigasaki beach this past Saturday for various reasons.  It is the beach I have skimboarded on the most in Japan, by far, and is actually the 3rd most skimmed beach of any in my 21 years of skimboarding.  The other reason was Aya.  I wanted to propose to her, and I wanted to do it at the most familiar, most special place to me in the Tokyo area.  Even though Chigasaki beach is little more than an ash tray next to the ocean, it is still special to me and it is still capable of producing some magic, and it did not fail me this Saturday evening.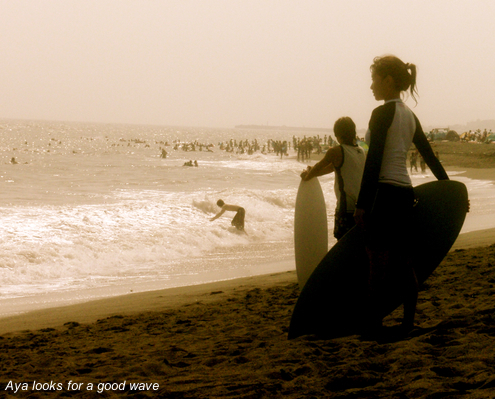 I was stoked as usual for this past Saturday's skimboarding session, but the waves were just not there for any kind of even modest session.  Walking to the beach I saw a few skimboarders leaving and from afar could see a few still down on the beach.  I quickly realized why there was almost no one out there, though, despite the beautiful day—the strong wind was just making all the waves way too sloppy.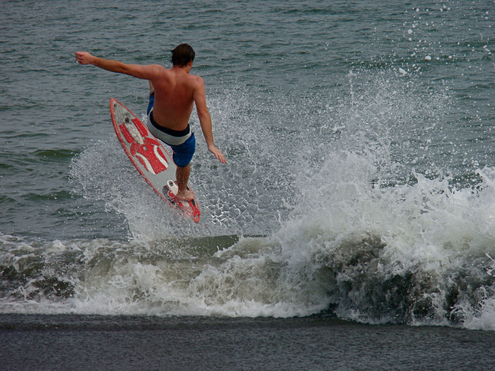 When Aya and I first arrived at Hiratsuka Beach stoked for our 4th skimboarding session of the year, we were immediately met with a crowd of "beach football" players who were having a huge tournament.  I had never even heard of the sport before.  We saw a lot of skimboarders walking away from the beach, though, up on the main sidewalk.  I thought there might also be a skimboarding tournament, but I guess since we were arriving at the beach itself just after 12:30pm, that's the end of the morning session for most Japanese skimmers.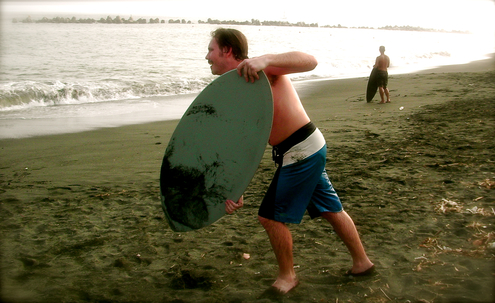 The waves were significantly bigger this time at Hiratsuka, which always makes for more fun for the skimboarder, as well as the chance for bigger wipeouts!  But here's a secret—big wipeouts are fun.  They may look like they hurt, but most of the time you are falling into deep water so it's just a matter of keeping your mouth closed so as not to drink in any water.
Besides the larger waves, the biggest conditions difference was that the sand was a bit softer, no doubt because of the larger waves crashing on the shore and carrying sand all over the place.  This meant I ran a step slower than in the previous week's session.  It also meant that my ears ended up being full of black sand!  Usually I get a little, but this time the amount of sand coming out was a bit disconcerting.  Aya hadn't experienced this before, so I had to reassure that this was normal for skimboarding Shonan area beaches.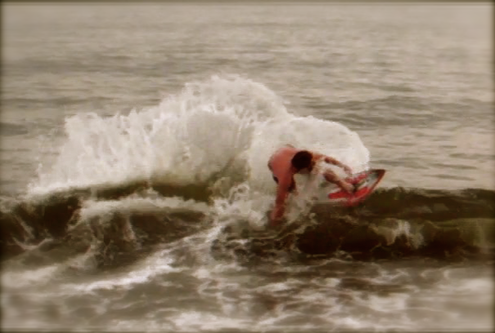 Skimboarding session #002 for the year was rather special.  For the first time in 6 summers of skimboarding at the Shonan area of Kanagawa Prefecture, Japan, I sought out a new skimboarding beach.  Having found Chigasaki Beach in summer 2003, it was love at first sight, despite it's flaws, and though I heard of this other beach nearby that was possibly a skimboarder's haven, I stayed at Chigasaki.  For at Chigasaki there used to be other skimboarders, but over the past few years I've seen maybe three or four total.  Then after the typhoon last September disturbed the ocean floor reducing the size of waves greatly, I knew I may need to find a new skimboarding beach for 2008.
(video after the break)