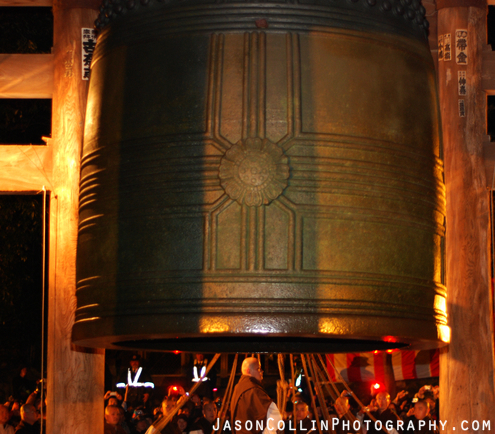 Totally by accident, Aya and I were able to witness one of the most special New Year's Eve traditions in Japan–the ringing in of the new year by 17 monks at Kyoto's Choin-in Temple.  This was one of the most impressive things I've ever seen.  The bell the monks were ringing is the largest in Japan, weighing in at nearly 80 tons and having a diameter of some 2.7 meters.  It's also very old, being cast way back in 1633 C.E.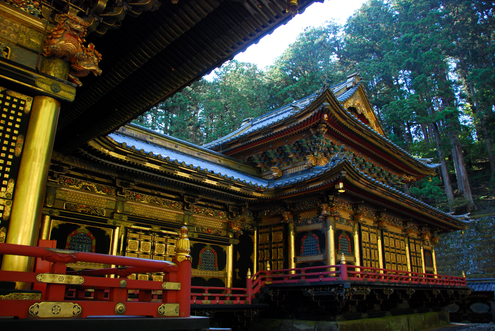 After five and a half years in Tokyo, Japan, I finally made my first visit to Nikko.  I had heard about Nikko many times, as it's one of the premier tourist destinations in all of Japan, as well as being a World Heritage Site.  I heard of monkeys running wild, and even taking baths in outdoor hot springs.  I was expecting a huge hub-bub.  Of course, like most things, my expectations and reality were nowhere near matching.  I found Nikko to be a small, reserved sanctuary of temples and shrines tucked away amongst a forest of tall trees.  And no monkeys.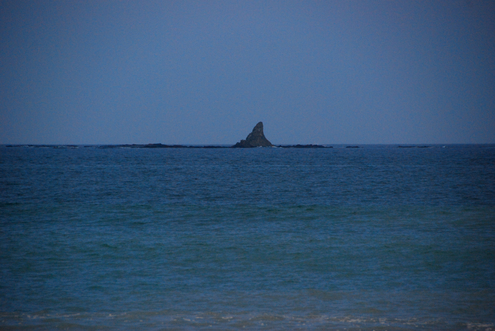 What you see in the above photo is a mysterious rock out in the middle of the Pacific Ocean.  It is the symbol of Chigasaki.  I have no idea how it was formed or what it really is.  Despite skimboarding this place for the past six summers, I never investigated its meaning.  And I do not want to know.  I always imagined it as a great shark's dorsal fin.  The rock is very mysterious, for as you walk further from it, the stone actually appears closer to you.  Such is the scene of my first ever skimboarding in Japan back in June of 2003, and my final session in October 2008.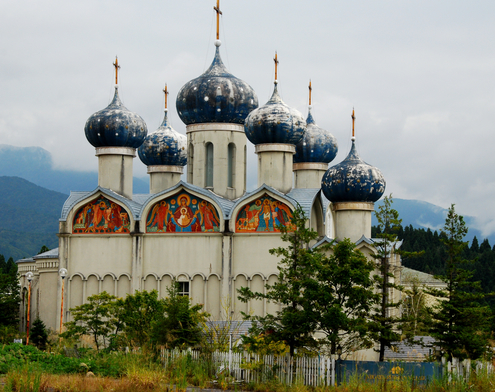 This haikyo trip to a Russian Village tucked away up in Niigata Prefecture, Japan, was my first ever overnight stay in a haikyo (urban exploring), and also my first ever time to stay overnight in a hotel–without paying!  Me, UK Mike, the Can, and Scott took an X-trail up to Niigata (piloted by yours truly).  It was Scott's first ever haikyo experience.  I think this haikyo trip, though, produced a number of firsts for all of us, like getting busted by the 5-O, cooking with an open flame in a hotel room, riding mammoths, and spending quality time in a church on a Saturday night.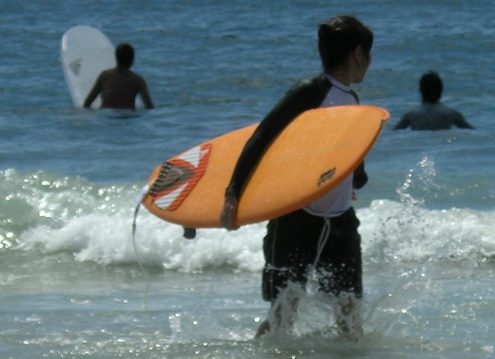 Largely by accident, going to Shimoda, Izu in Shizouka Prefecture, Japan has become an annual summer ritual.  It started two summers ago with the Can, which was the best road trip I've ever taken in Japan.  The tradition continued this summer, and it was my third birthday in a row spent on Tatadohama Beach, but my first ever with Aya.  We drove her dad's car down my favorite strip of road in Japan, Rd. 135 along the coast all the way down to the very tip of the Izu Peninsula where Shimoda dwells, seemingly forgotten by Japan at large, but gladly adopted by me as my summer getaway from the madness of Tokyo.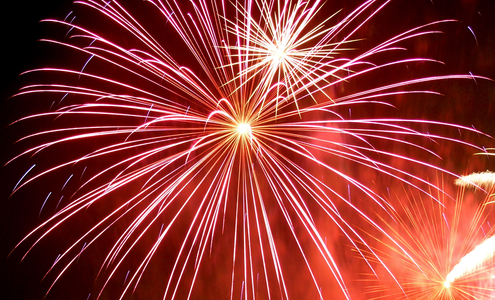 I attended my second fireworks display, hanabi, of the summer this past Saturday along the banks of the Tama River near Futako-Tamagawa station.  If you can believe it, I am still so naive that even after 5+ years of living in Japan, I wasn't expecting to have to fight through huge crowds!  Of course Futako-Tamagawa station was jammed with people exiting trains to head to the river for the fireworks.  However, once out of the fray, there was plenty of space even for late arrivers to find a nice spot upon which to gaze upwards for the hour-long fireworks display.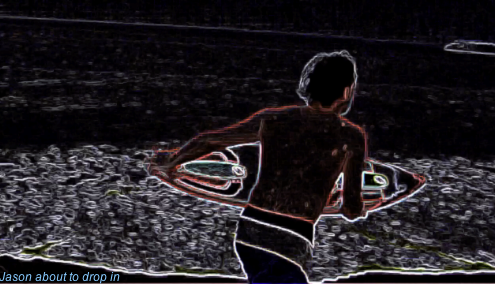 I wanted to return to skimboarding at Chigasaki beach this past Saturday for various reasons.  It is the beach I have skimboarded on the most in Japan, by far, and is actually the 3rd most skimmed beach of any in my 21 years of skimboarding.  The other reason was Aya.  I wanted to propose to her, and I wanted to do it at the most familiar, most special place to me in the Tokyo area.  Even though Chigasaki beach is little more than an ash tray next to the ocean, it is still special to me and it is still capable of producing some magic, and it did not fail me this Saturday evening.

I was sitting at my desk, procrastinating on proofreading work, when I saw out the sliding glass doors this sight—a column of feathery clouds being bisected by a fiery sun on its way toward the horizon.  Every since I first got my Sanyo Xacti HD700 in February of this year, I have been filming sunsets from my balcony here in Shinjuku.  I believe the sunset I witnessed today to be the best one yet.  There is no need for me to describe it further, as you can behold it for thyself in the above HD video.