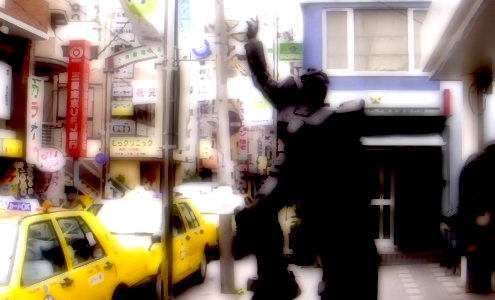 I cycled out with UK Mike (
his post
) to the Seibu-Shinjuku line station of Kami-Igusa to check out the newly erected (March 2008) statue of
Gundam
.  It stands about 190cm tall (6 feet).  It must be rather strange for people coming out of a train station and the first thing they see is Gundam!  I wonder if the police in the koban behind the statue like their new view as well?
VIDEO: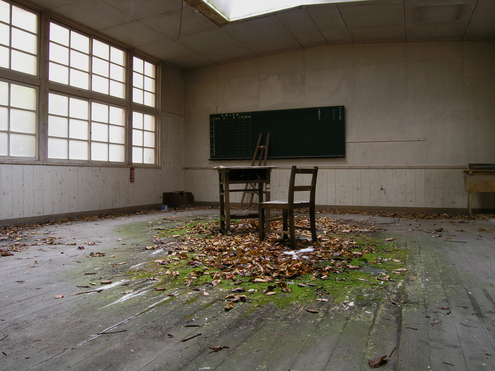 I went on my first ever haikyo, or urban exploring as it's called outside of Japan, with the Mikes in January 2008.  We rented a Nissan X-trail, which was a pleasure to drive by the way, and headed up deep into Gunma Prefecture, Japan.  Snow was everywhere and we were all very excited to be out of Tokyo and on our first adventure in a long time.  We went out seeking an abandoned theme park, volcano museum and schoolhouse.  We found them all, with varying degrees of difficulty. [Read more]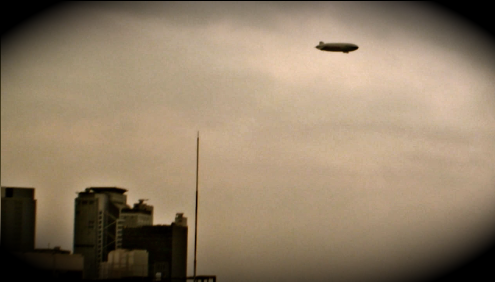 I was sitting at my desk when I notice a blimp not so slowly blimping on by.  I hopped up and grabbed my Xacti HD700 and quickly shot some footage of the blimp before it passed too close to the sun and then out of sight.  
To my surprise while I was filming the blimp, a pair of pigeons flew right in front of me (but below camera) with one of them landing right on my neighbor's balcony.  This gave me a bit of a start, but fortunately held firm onto the Xacti the whole time (I don't use a wrist tether).  So I took the pigeon's close landing to mean she/he was ready for her/his closeup!  I obliged and put this video up for anyone needing to cast a very photogenic pigeon for their next shoot!
VIDEO: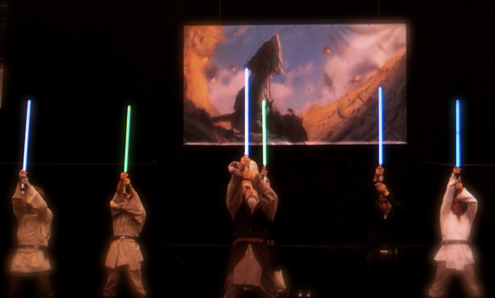 Like for many people of my generation, STAR WARS is the greatest genre series of my life.  In fact, the whole past decade of my life has been based on, and around, STAR WARS.  I have literally flown to other countries to be able to see the release of the prequels on time.  And also like many other STAR WARS fans, Episode III brought a significant close to the STAR WARS chapter of my life (read my Episode III journal).  Since 2005, STAR WARS has greatly waned in my consciousness.  Thus, I only found out about Star Wars Celebration Japan 2008 at the last minute.
And lucky that I did!  For a mini-revival in STAR WARS is about to begin with the release of the CG animated CLONE WARS movie in August 2008 and the related TV series soon after.  I write this post now while listening to the Episode III soundtrack.  Thusly I went to Makuhari-Messe in Chiba, Japan with UK Mike caught in surprise at this sudden burst of STAR WARS energy.   [Read more]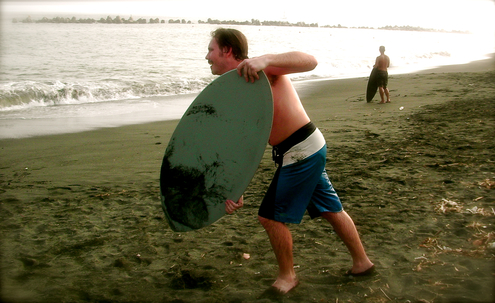 The waves were significantly bigger this time at Hiratsuka, which always makes for more fun for the skimboarder, as well as the chance for bigger wipeouts!  But here's a secret—big wipeouts are fun.  They may look like they hurt, but most of the time you are falling into deep water so it's just a matter of keeping your mouth closed so as not to drink in any water.
Besides the larger waves, the biggest conditions difference was that the sand was a bit softer, no doubt because of the larger waves crashing on the shore and carrying sand all over the place.  This meant I ran a step slower than in the previous week's session.  It also meant that my ears ended up being full of black sand!  Usually I get a little, but this time the amount of sand coming out was a bit disconcerting.  Aya hadn't experienced this before, so I had to reassure that this was normal for skimboarding Shonan area beaches.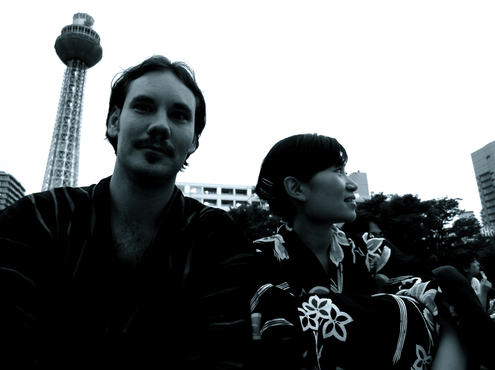 Hanabi is a Japanese word that means fireworks display viewing.  Donning a yukata for the first time, I went to Yamashita Park in Yokohama, Japan with Aya for some mid-summer hanabi action.  Back on Friday, Aya helped me go yukata shopping, selecting a nice navy blue one.  She donned a deep purple yukata hand-sewn by her mother for her.  It is traditional to wear yukata to hanabi and other Japanese summer festivals.  How does it feel to wear a yukata?  A little restricting and a bit hot, but it felt good to have my attire contribute to the overall festive atmosphere.
Getting a choice spot for hanabi would have required arriving at iPhone waiting type times, so all things considered, we thought we had found ourselves a pretty good spot to spread the Big Agnes Seedhouse footprint.  Then we realized a large tree would be obstructing a good part, if not all, of our view.  It turned out to be only a partial obstruction, with low fireworks totally visible.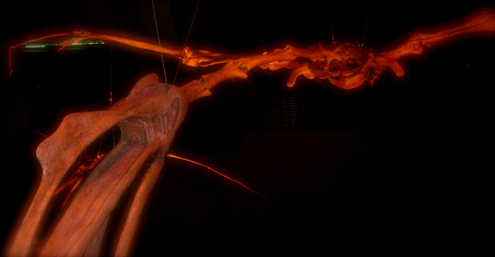 It's funny how often I can suddenly think of something to do when need be.  This often happens for where to go on a cycling ride, what to eat for dinner, or this time, how to spend Sunday afternoon.  Such was the case this past Sunday when Aya and I were pondering how to spend our Sunday.  We put our heads together, and it was suddenly:  pterosaurs!  
Thanks to some help from trusty Metropolis, we were soon on our way to Tokyo Teleport station to go to the pterosaur exhibition at the Miraikan science and industry museum.  It was a bit of a walk from the station to there, which would have been pleasant if it wasn't the hottest day of the summer so far.  It's quite scenic in Odaiba, and feels much different than other places in Japan because it's all so big and open there.  
The pterosaur exhibit itself was really good.  It had just enough real fossils on display to make it a real exhibit.  The models themselves, of both fossils and whole pterosaurs, were quite convincing.  It was often hard to tell which were real fossils and which were models.  The star of the exhibit was the enormous quetzalcoatlus, the largest of the pterosaurs with a huge 10 meter wingspan, but a weight of only 70kg!  I outweigh it by 9kg!
After spending an hour and ten minutes in the dimly lit and atmospheric pterosaur exhibit, Aya and I ventured into the Symbol Zone in the general exhibit space of the museum.  In this huge room there are several sofas for relaxing on and taking a break.  While you are horizontal, you are treated to a view of a huge, incredible LED globe of the Earth that lights up showing various heat signatures.  (see video)
We agreed that we would definitely go back to check out the full spectrum of hands-on exhibits in the general exhibits area.  Miraikan is a great place to spend the whole day, full of rest areas and cafes all in a very modern building.
PHOTOS:
VIDEO:

Quite some time ago, a student told me she had rented a dog in Odaiba with her boyfriend.  I had to have her repeat that.  She really liked dogs, but since she was a pre-med student, she had no time to take care of one.  So she said renting one was the next best thing. I filed that story in my deep memory as I thought it might be something I'd like to do in the future.  
So this Sunday when Aya and I found ourselves heading to the Odaiba area to check out a sweet pterosaur exhibition, I recalled the dog rental story and suggested we try and do it.  I am very careful about doing anything with animals in captivity, but surprisingly no ethical warnings came up in my mind about renting a dog.