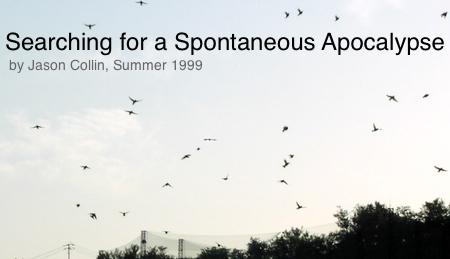 I wrote "Searching for a Spontaneous Apocalypse" for a summer school class in 1999 when I was a graduate student at the University of South Florida.  The assignment was to take one book of the Bible and depict it artistically (painting, poem, short-story, collage, etc).  I chose to write a short-story in spontaneous prose style about the events of the Book of Revelations set in present time.  I wrote it all in one sitting, taking about 6 hours, maybe less, between the hours of 9pm and 3am.
I consider it to be my very best writing, and not just because it received extremely high praise from the professor of the class.  This work came at the height of my long creative period at the end of the 90's when my mind was focused and spilling out words almost constantly.  I believe it to very closely reveal how I actually think and perceive the world in my own mind. (some exerts from the story are real)
This story is best read all in one sitting, which will take about 15 minutes.
SEARCHING FOR A SPONTANEOUS APOCALYPSE
            Long hours spent alone at night
allow for ample time to explore all thoughts in mind and
uninterrupted thinking is only slowed by sadness that is being constantly fought against.  To all
poets on Sunday nights, the world seems particularly sad.  Others enjoy "family night" or feel a
sickness well up in them as their work week—which kills them—comes onto their horizon
again.  Sad poets contemplate the nature of reality and at once realize the tragic nature of it all,
and then think its all love too.