This is Kumi and the Can's wedding reception in 60 seconds. Listen carefully as the quips come and go quickly!
Filmed on location at a restaurant in Harajuku, Tokyo, Japan.
(Forgive the Xacti its poor low light performance. In its defense, it was really dimly lit in there after sunset.)
The songs in the setlist this time were "Mississippi Queen" and "Say It Ain't So."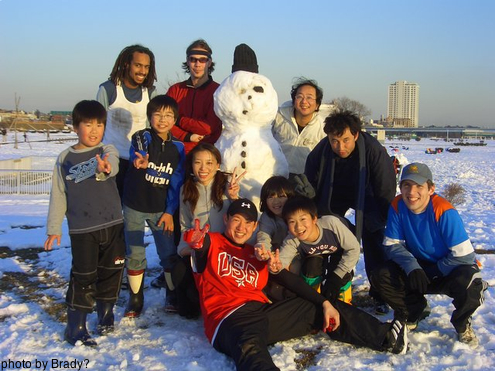 For those that came out to Futako-Tamagawa for the usual Sunday ultimate got a most unusual afternoon of ultimate. Instead of fields of dull green, all was white as I walked from the station to the field. Our regular field was covered in about 3 inches of snow. We had some very new newbie players: 4 Japanese boys around 10-years old. They were all very enthusiastic players laying out for catches more often than not. What was really cool was the way the disc spins in the snow when it lands. Missed throws would just spin in place for a good 10 seconds. A few times the disc even spun vertically. Very cool. If there were only video of it . . .
In the middle of this, Brady using his Canadian instincts rolled a proper snowman with thorax. I rounded up some rocks for its face and jacket buttons. Playing ultimate in the snow is great. I think everyone felt like a kid out there today.