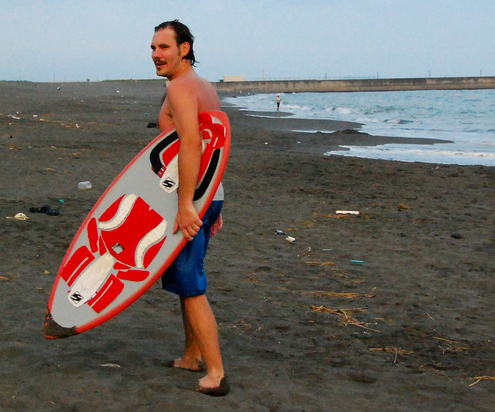 It  had been quite some time since Aya and I went to a Shonan beach for a proper skimboarding session, and I can't really that this session at Hiratsuka was that proper.  It barely ranked enough to get session #07 designation.  There were absolutely no waves at first, and virtually no skimmable surface at all.  Still, a group of 5 young j-skimmers were grinding it out the whole time, but it mostly looked like they just enjoyed falling.  Things got a bit better at the last minute.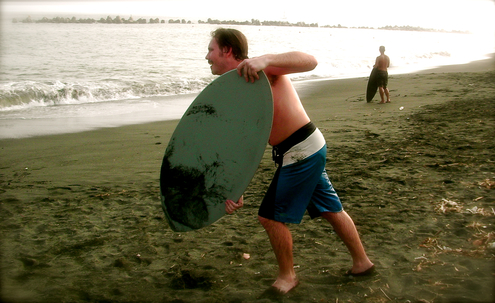 The waves were significantly bigger this time at Hiratsuka, which always makes for more fun for the skimboarder, as well as the chance for bigger wipeouts!  But here's a secret—big wipeouts are fun.  They may look like they hurt, but most of the time you are falling into deep water so it's just a matter of keeping your mouth closed so as not to drink in any water.
Besides the larger waves, the biggest conditions difference was that the sand was a bit softer, no doubt because of the larger waves crashing on the shore and carrying sand all over the place.  This meant I ran a step slower than in the previous week's session.  It also meant that my ears ended up being full of black sand!  Usually I get a little, but this time the amount of sand coming out was a bit disconcerting.  Aya hadn't experienced this before, so I had to reassure that this was normal for skimboarding Shonan area beaches.